Gilas Pilipinas Women's scintillating masterclass in the ASEAN level continues.
The Philippine women's national 5-on-5 basketball team erupted for one of its all-time best offensive performances to demolish the host country, 118-87 on Thursday in the 31st Southeast Asian Games Vietnam 2021 at the Thanh Tri Gymnasium in Hanoi.
Sharpshooter Khate Castillo and long-time women's basketball veteran Bernardino joined forces to shred the Vietnamese defense right in the opening period from inside and out, combining for 18 of the team's 40 first quarter points.
The Filipinas opened the game on a 14-2 note and never looked back. Later, Castillo made three triples while Bernardino took care of the paint, while Gilas went on an 11-3 run to establish an even more commanding lead at 38-13.
Castillo top-scored with 25 points on a 9-of-13 field goal clip and 7-of-11 three-point shooting, picking the perfect time to click from long range.
Bernardino added 14 points and 12 rebounds as the Philippines inched closer to the gold medal with an unblemished 3-0 record.
Gabi Bade (14), Camille Clarin (11), and Clare Castro (10) all tallied double-digit scoring outputs as well.
Castillo added two more treys while Andrea Tongco hit two of her own late in the third period, before Stefanie Berberabe's fast break layup with 6:21 left in the fourth enabled the Philippines to reach the century mark at 100-70.
The Philippines shot 53 percent overall and converted 17-of-39 from three-point land for an impressive 43-percent clip. They also had 28 assists to their counterparts' 14, and 35 turnover points.
Truong Thao Vy (Kaylynne) and Mailee Jones paced Vietnam with 30 and 29 points, respectively. However, only Tran Anh Dao scored from the bench with 11 markers, as Gilas had a mind-boggling 70-11 edge in points from reserves.
Gilas Women's 118 points tied its second-best scoring output set coincidentally against Vietnam as well during the 2017 Malaysia SEA Games.
It fell just a few baskets behind their all-time best record of 123 points scored against Myanmar in the same tournament.
Coach Patrick Aquino's troops will face Singapore on Saturday, May 21 before concluding their single round robin schedule against Malaysia on Sunday, May 22.
File photo from FIBA.basketball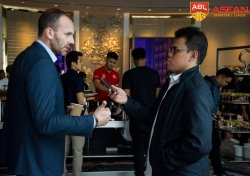 Latest posts by Levi Joshua Jr Verora
(see all)