(UAAP press release)
The highly anticipated UAAP Season 86 is gearing up to make a triumphant return, and it's bringing with it a thrilling new theme and logo that perfectly encapsulates its mission and spirit.
The UAAP Season 86 theme, "Fueling the Future," was unveiled today, setting the stage for an exciting season ahead.
The UAAP has always been synonymous with excellence, dedication, and the relentless pursuit of greatness.
With the theme "Fueling the Future," UAAP Season 86 underscores its commitment to being the driving force behind the development of future professional athletes and national team mainstays. It proudly serves as the stepping stone, the training ground, and the building block for athletes who aspire to reach the pinnacle of their careers.
What makes this theme even more special is that it coincidentally shares the same initials as "face-to-face." This alignment highlights the eight member schools' return to their roots in full onsite, in-person mode post-pandemic.
It's a resounding declaration that the UAAP is back, stronger than ever, ready to inspire and unite fans across the nation.
Meanwhile, the UAAP Season 86 logo is a visual testament to the energy and vibrancy that define the league.
At its core, the logo prominently features the UAAP season and theme, proudly displayed front and center. Surrounding this central element are splashes of color that evoke the explosive collision of energy, creating sparks that ignite passion and excitement.
What makes the logo even more captivating is its representation of the member schools.
Each school's official colors are masterfully integrated into the design.
The visual journey begins with the bold red-and-white hues of University of the East, represented at the top center of the logo.
As one follows the clockwise direction, one will encounter the respective colors of University of the Philippines, University of Santo Tomas, Far Eastern University, National University, Ateneo de Manila University, De La Salle University, and Adamson University.
This colorful array symbolizes the unity and diversity that define the UAAP community.
UAAP Season 86 promises to be an unforgettable journey filled with thrilling sportsmanship, remarkable talent, and unwavering passion.
With the theme "Fueling the Future" and a logo that radiates dynamism, this season is poised to set new standards and inspire generations of student-athletes and fans alike.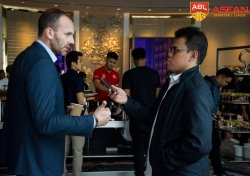 Latest posts by Levi Joshua Jr Verora
(see all)