The best stars of the on-going 2022-2023 Philippines Football League season will banner the pool of the Azkals men's seniors national team.
The squad announced its 44-man pool on Thursday, a month before the 2022 AFF Mitsubishi Electric Cup action unfolds in late December.
Seasoned veteran Stephan Schrock headlines the list of midfielders, along with Oskari Kekkonen, Michael Baldisimo, Oliver Bias, Hikaru Minigeshi, Dennis Chung, Eric Giganto, Arnel Amita, Jesus Melliza, Pocholo Bugas, Jeremiah Borlongan, Bryan Ybanez, Sandro Reyes, Chester Pabualan, Harry Nunez, Justin Frias, Jacob Maniti, and Cyrelle Saut.
Comprising the defenders are overseas-based players like Amani Aguinaldo, Jesse Curran, Jesper Nyholm, Jefferson Tabinas, and Dylan De Bruycker, along with Kenshiro Daniels, Christian Rontini, Jaime Rosquillo, Kouichi Belgira, Audie Menzi, Simen Lyngbo, Pete Forrosuelo, Kamil Amirul, and Haren De Gracia.
The four goalkeepers are Kevin Ray Hansen, Anthony Pinthus, Julian Schwarzer, and Enrico Mangaoang, while the forwards are Jarvey Gayoso, Ivan Ouano, Griffin McDaniel, Mark Hartmann, Sebastian Rasmussen, Dov Carino, and Andres Aldeguer.
Notably, nine out of the 44 currently play for the Azkals Development Team (ADT) while current Birmingham City shot stopper Neil Etheridge was not included in the pool.
The Philippines is in Group A of the AFF championship, where it will open its campaign against Cambodia on the road on December 20.
It will then host Brunei on December 23 at the Rizal Memorial Football Stadium, before meeting powerhouse defending champion Thailand in Pathum Thani on December 26.
The Azkals will conclude their group stage assignments with Indonesia at home again on January 2, 2023.
The top two nations in each of the two groups will advance to the two-leg knockout semifinals.
The Philippines last qualified for the semifinals back in 2018, where it lost to eventual champion Vietnam, 4-2 on aggregate.
Photo from The Azkals Facebook page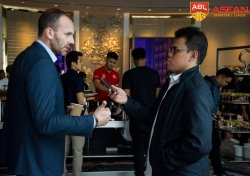 Latest posts by Levi Joshua Jr Verora
(see all)