A feisty Malaysia squad played the spoiler role and denied Gilas Pilipinas Women of a tournament sweep via a stunning 96-93 win in the 31st Southeast Asian Games Vietnam 2021 5-on-5 basketball competition on Sunday at the Thanh Tri Gymnasium in Hanoi.
Already assured of the gold medal entering the game, the Philippines was challenged for the first time all-tournament long by their equally-determined counterparts who were shooting for a chance at the bronze.
Chong Yin Yin hit a dagger triple with 17 seconds to go, handing Malaysia a 96-93 lead.
The crucial basket was part of a surprising 10-0 run from Malaysia which erased a 93-86 lead from the Philippines with under three minutes to go.
Fook Yee Yap had five straight points in the stretch, as Malaysia chipped away the Gilas lead.
In the final play, the Philippines was unable to even make a three-point attempt to send the game to overtime, as time expired.
Chong and Yap both tallied 25 points and combined for 10 triples. Chong had 18 points in the first half and also finished with four rebounds, five assists, and five steals.
Pang Hui Pin contributed a double-double of 21 points and 10 boards.
The Philippines had stormed back in the fourth quarter using a 14-3 run earlier capped by back-to-back Pontejos treys for an 89-84 advantage with over five minutes left.
In spite of the loss, the nationals had already won the gold medal — their second in a row — yesterday as the top-placed team in the competition when Malaysia lost to Vietnam.
Saw Wei Yin pushed Malaysia to its biggest lead at 81-75 with 8:20 remaining in regulation before the big run from Coach Patrick Aquino's side.
Pontejos led the blue and white with 18 points, while Afril Bernardino chipped in 16 points, seven rebounds, and seven steals.
Gabi Bade and Ella Fajardo came off the bench to provide ample support with 13 and 12 points, respectively.
For the first time in the tournament, Gilas was outperformed from three-point area, as Malaysia converted 13 long range shots to the Philippines' 11.
Gilas entered the game having an average winning margin of 22.5 points and also normed 99 PPG.
With the loss, Gilas Women was unable to duplicate its unbeaten run during the 2019 SEA Games in Manila, which at that time gave them their first-ever gold in the event.
Indonesia placed second for the silver medal, while Vietnam will need to beat Thailand later in the day to secure the bronze medal.
The hosts edged Malaysia last night, 69-65 to take winner-over-the-other advantage in case of a two-way tie.
FIBA.basketball file photo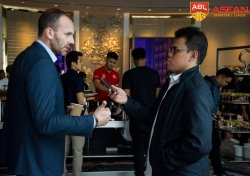 Latest posts by Levi Joshua Jr Verora
(see all)