The Philippine women's national volleyball team failed to get the bronze medal after collapsing in the fourth set and yielding to Indonesia, 25-21, 22-25, 25-19, 25-21 in the 31st Southeast Asian Games Vietnam 2021 on Saturday at the Dai Yen Arena in Quang Ninh.
Not even an 18-12 lead by the Pinays rattled Indonesia in the fourth set, as the Indonesians unleashed a crippling 10-run to take the 22-18 lead and eventually secure the bronze.
Indonesia had previously defeated the Pinays in the elimination round — also in four sets.
Back-to-back spikes from Megawati Pertiwi enabled the Indonesians to take the match in the fourth frame, 25-21.
Her bronze medal-clinching spike sent her fellow teammates on their knees, celebrating an emotional comeback which allowed them to repeat their third-place finish back in the 2019 SEA Games
On the other hand, the Philippines' drought in women's indoor volleyball continues, with a podium finish eluding them since winning the bronze medal in 2005 at home.
A 5-0 run in the second set gave Indonesia a 16-12 lead, but attack errors allowed the Philippines to tie the count at 20 apiece.
A power tip from Aby Marano made it 24-22, before a setting error from their counterparts allowed the Philippines to tie the match at one set each.
In the next frame, Indonesia bounced back strong after the Philippines pulled within 19-18, going on a 6-1 stretch to take the third set.
Photo from the Asian Volleyball Confederation (AVC)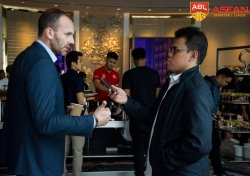 Latest posts by Levi Joshua Jr Verora
(see all)