When players bounce back from dismal losses, they usually pick up the scoring load to deliver a win. But for Paolo Javillonar and Mon Mabayo, it was a slightly different but just as effective approach.
The big man tandem was the key in the Caloocan Excellence's 80-79 nail-biter win over the Negros Muscovados in the Chooks-to-Go MPBL Invitational powered by TM on Tuesday, as they exerted the extra effort on what they do best as the squad's feisty frontcourt players.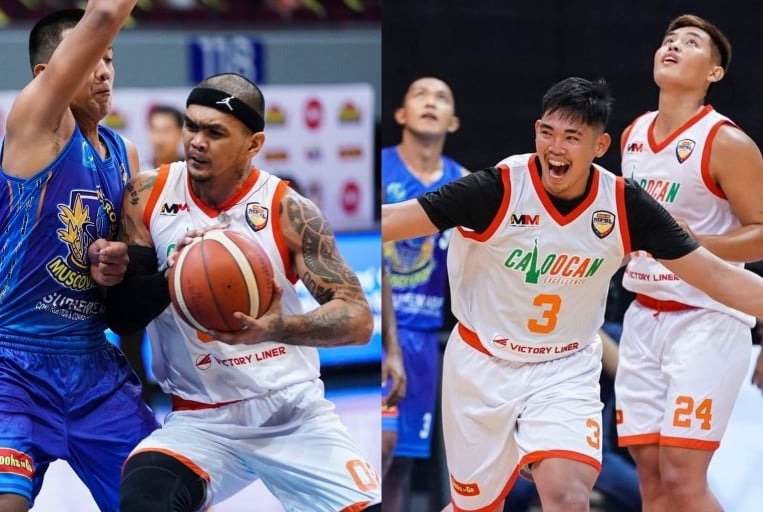 The 6-foot-6 Javillonar was the star of the maiden victory, hitting a stick-back with three seconds left off a Josef Penaredondo missed jumper that pushed Caloocan ahead.
"That was garbage play, putback lang. In-off time ko lang, and then inangat. Yun din talaga yung strength ko. Ginawa ko lang yung role namin as big men so kailangan namin mag-step up," Javillonar detailed.
It was the Letran standout's eight offensive rebound and 19th overall, a tournament-high so far. He also finished with 15 points.
Mabayo, on the other hand, also asserted the signature intimidating presence he is usually known for in the MPBL, grabbing 17 boards of his own to go along with 12 points.
Later after the contest, the two would even jokingly accuse each other of boxing out and fighting each other for position underneath on purpose, to see who wounds up with more boards.
"Kami ni Paolo nga nag-kakantsawan, nag-aagawan pa kami sa rebound. Grabe 'yung work ethic at intangibles niya. Kasi, kailangan rin talaga 'yun eh. And, hindi lang kami, kailangan lahat," the veteran forward said.
Caloocan head coach Rene Baena bared that that was simply how things work in Excellence's practice sessions, energized by two tenacinators who inject incredible intensity to their scrimmages.
"He works crazy. maingay pa kami sa palengke," Baena shared, talking about Javillonar. "They really have the tenacity when they're on the court. It mattered. Every time we do our scrimmages, Pao would always go for the putbacks. That (go-ahead basket) proved how we really practiced."
In fact, Mabayo himself was relieved after his first encounter with Javillonar, as the latter seemed like a mirror image of Mabayo's style of play — a rarity in today's basketball.
"'Yung unang dating niya sa practice, tuwang-tuwa ako, kasi 'yung nakikita ko sa kaniya, 'yun 'yung mga magandang ginagawa ko eh," Mabayo shared, even adding that Javillonar was even nicknamed "Junior Mabayo" as he and the youngster's roles on the team are very similar.
"And maingay talaga sa practice. Maingay naman kahit saan ako mapunta, pero dito, mas maingay. Nakakatuwa, dahil dalawa na kaming ganoon. Kumpiyansa ako na kapag wala ako sa loob, andoon siya. Paano pa kapag nasabay kami, 'di ba?"
Javillonar is likewise grateful to be in the same roster as the 6-foot-4 bruiser, who has imparted many lessons to him.
"Iba yung experience. Yung age gap namin, malayo. Ako, ina-absorb ko lang sinsabi niya sakin. Pasok naman para sa beginners yung ginagawa niya sa akin … Kami ni Kuya Mon yung mga banger sa team."
Mabayo likes what he sees from his de facto apprentice so far. And as the cup progresses, he hopes the two of them can continue to complement the entire team for a successful run.
"Yung work ethic niya, andoon na eh. 'Yung diskarte na lang siguro sa loob, kagaya ng sa mga foul trouble, 'yun lang ang tinuturo ko sa kaniya na not too high, not too low kasi kahit naman ako, ganoon noong bata eh," he said.
"As long as gumagawa kami lahat, I think (yes). Kailangan gumawa kami lahat, full team effort ang kailangan namin."
Photos from Chooks-to-Go MPBL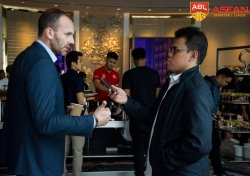 Latest posts by Levi Joshua Jr Verora
(see all)