The Chooks-to-Go Maharlika Pilipinas Basketball League (MPBL) is back.
And with the FIBA-style Invitational Cup tournament kicking off on Saturday, December 11 at the Mall of Asia Arena in Pasay City, here is a look at the full elimination round schedule of the 22-team battlefield.
The MPBL will be the first league to re-open at the state-of-the-art venue amidst the on-going pandemic, as sports continue to return to normalcy.
Only the top two teams in each of the four groups will advance to the knockout quarter-final stages.
December 11, Saturday – ELIMINATION 
GAME NO. 
TIME 
GROUP
TEAM 
TEAM
(Light) 
(Dark)

1 

9:30 AM 

A 

Iloilo United Royals 

VS 

Negros Muscovados

2 

1:30 PM 

C 

San Juan Knights Go for Gold AICC 

VS 

Val City – MJAS Zenith

3 

4:00 PM 

A 

All-Star Bacolod Ballers 

VS 

Bacoor City Strikers

4 

6:30 PM 

D 

Bulacan Kuyas 

VS 

Imus Bandera

5 

9:00 PM 

B 

Bicol Volcanoes 

VS 

Jumbo Plastic Basilan
December 12, Sunday – ELIMINATION 
| | | | | | |
| --- | --- | --- | --- | --- | --- |
| 6  | 8:00 AM  | C  | Nueva Ecija Rice Vanguards  | VS  | Sarangani Marlins |
| 7  | 10:30 AM  | D  | Gen San Warriors  | VS  | EMKAI – Rizal Xentromall Golden Coolers |
| 8  | 1:00 PM  | B  | Laguna Krah Asia  | VS  | Bicol Volcanoes |
| 9  | 4:00 PM  | D  | Manila Stars  | VS  | Mindoro EOG-Burlington Tamaraws |
| 10  | 6:30 PM  | A  | Negros Muscovados  | VS  | All-Star Bacolod Ballers |
December 13, Monday – ELIMINATION 
| | | | | | |
| --- | --- | --- | --- | --- | --- |
| 11  | 9:30 AM  | D  | EMKAI – Rizal Xentromall Golden Coolers  | VS  | Manila Stars |
| 12  | 12:00 PM  | A  | Bacoor City Strikers  | VS  | Caloocan Excellence |
| 13  | 2:30 PM  | A  | Pasig Sta. Lucia Realtors  | VS  | Iloilo United Royals |
| 14  | 5:00 PM  | C  | Sarangani Marlins  | VS  | San Juan Knights Go for Gold AICC |
| 15  | 7:30 PM  | B  | Laguna Krah Asia  | VS  | Marikina Shoe City |
December 14, Tuesday – ELIMINATION
| | | | | | |
| --- | --- | --- | --- | --- | --- |
| 16  | 9:30 AM  | D  | Mindoro EOG-Burlington Tamaraws  | VS  | Bulacan Kuyas |
| 17  | 12:00 PM  | A  | Caloocan Excellence  | VS  | Negros Muscovados |
| 18  | 2:30 PM  | C  | Val City – MJAS Zenith  | VS  | Muntinlupa Cagers |
| 19  | 5:00 PM  | B  | Marikina Shoe City  | VS  | Makati FSD Blazers |
| 20  | 7:30 PM  | D  | Gen San Warriors  | VS  | Imus Bandera |
December 15, Wednesday – ELIMINATION 
| | | | | | |
| --- | --- | --- | --- | --- | --- |
| 21  | 9:30 AM  | C  | Muntinlupa Cagers  | VS  | Sarangani Marlins |
| 22  | 12:00 PM  | B  | Makati FSD Blazers  | VS  | Bicol Volcanoes |
| 23  | 2:30 PM  | A  | All-Star Bacolod Ballers  | VS  | Iloilo United Royals |
| 24  | 5:00 PM  | D  | Manila Stars  | VS  | Gen San Warriors |
| 25  | 7:30 PM  | A  | Pasig Sta. Lucia Realtors  | VS  | Bacoor City Strikers |
December 16, Thursday – ELIMINATION 
| | | | | | |
| --- | --- | --- | --- | --- | --- |
| 26  | 9:30 AM  | C  | Valenzuela  | VS  | Nueva Ecija Rice Vanguards |
| 27  | 12:00 PM  | A  | Caloocan Excellence  | VS  | All-Star Bacolod Ballers |
| 28  | 2:30 PM  | D  | Imus Bandera  | VS  | Mindoro EOG-Burlington Tamaraws |
| 29  | 5:00 PM  | B  | Jumbo Plastic Basilan  | VS  | Marikina Shoe City |
| 30  | 7:30 PM  | D  | Bulacan Kuyas  | VS  | EMKAI – Rizal Xentromall Golden Coolers |
December 17, Friday – ELIMINATION 
| | | | | | |
| --- | --- | --- | --- | --- | --- |
| 31  | 9:30 AM  | B  | Laguna Krah Asia  | VS  | Makati FSD Blazers |
| 32  | 12:00 PM  | A  | Pasig Sta. Lucia Realtors  | VS  | Caloocan Excellence |
| 33  | 2:30 PM  | D  | Manila Stars  | VS  | Imus Bandera |
| 34  | 5:00 PM  | A  | Bacoor City Strikers  | VS  | Iloilo United Royals |
| 35  | 7:30 PM  | C  | San Juan Knights Go for Gold AICC  | VS  | Muntinlupa Cagers |
December 18, Saturday – ELIMINATION
| | | | | | |
| --- | --- | --- | --- | --- | --- |
| 36  | 9:30 AM  | A  | All-Star Bacolod Ballers  | VS  | Pasig Sta. Lucia Realtors |
| 37  | 12:00 PM  | D  | Gen San Warriors  | VS  | Bulacan Kuyas |
| 38  | 2:30 PM  | D  | EMKAI – Rizal Xentromall Golden Coolers  | VS  | Mindoro EOG-Burlington Tamaraws |
| 39  | 5:00 PM  | B  | Bicol Volcanoes  | VS  | Marikina Shoe City |
| 40  | 7:30 PM  | C  | Sarangani Marlins  | VS  | Val City – MJAS Zenith |
December 19, Sunday – ELIMNATION 
| | | | | | |
| --- | --- | --- | --- | --- | --- |
| 41  | 8:00 AM  | D  | Mindoro EOG-Burlington Tamaraws  | VS  | Gen San Warriors |
| 42  | 10:30 AM  | B  | Jumbo Plastic Basilan  | VS  | Laguna Krah Asia |
| 43  | 1:00 PM  | A  | Negros Muscovados  | VS  | Bacoor City Strikers |
| 44  | 4:00 PM  | A  | Iloilo United Royals  | VS  | Caloocan Excellence |
| 45  | 6:30 PM  | C  | Nueva Ecija Rice Vanguards  | VS  | San Juan Knights Go for Gold AICC |
December 20, Monday – ELIMINATION 
| | | | | | |
| --- | --- | --- | --- | --- | --- |
| 46  | 9:30 AM  | D  | Imus Bandera  | VS  | EMKAI – Rizal Xentromall Golden Coolers |
| 47  | 12:00 PM  | D  | Manila Stars  | VS  | Bulacan Kuyas |
| 48  | 2:30 PM  | A  | Pasig Sta. Lucia Realtors  | VS  | Negros Muscovados |
| 49  | 5:00 PM  | C  | Muntinlupa Cagers  | VS  | Nueva Ecija Rice Vanguards |
| 50  | 7:30 PM  | B  | Makati FSD Blazers  | VS  | Jumbo Plastic Basilan |
Photo from Chooks-to-Go MPBL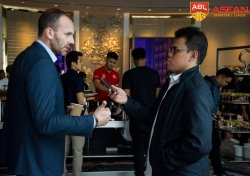 Latest posts by Levi Joshua Jr Verora
(see all)