The last Filipino team standing in the Filbasket International Championship will look to go all the way when the tournament's semifinals tipoff on Saturday, October 29 at the MABA Stadium in Kuala Lumpur, Malaysia.
The Pilipinas Aguilas, which finished with a 3-1 record in Group A of the round robin stage, will face Malaysian side KL Aseel in one half of the semifinal showdown. In the other side of the picture are MBC Basketball Club and another home squad in Harimau Malaysia.
Leading the charge for the Aguilas is veteran Mac Baracael, who averaged 18 PPG and a league-best 57 percent field goal clip. He also shoots a league fourth-best 42.9 percent from three-point land.
Import and former NCAA Most Valuable Player Prince Eze backstopped the wing man with his 13 PPG, 10.3 RPG, and 2.5 BPG stat line during the elimination round.
The Aguilas will have their hands full as they battle long-time Vietnamese Basketball Association import and naturalization candidate DeAngelo Hamilton, who is norming a league third-best 20.3 PPG along with 13.5 RPG.
Filipino teams bowing out of the tournament were the Makabayan Warriors Pilipinas-Shawarma Shack and the BGC Builders.
The Warriors lost a close encounter to MBC Basketball Club, 59-61 in a game where Marcy Arellano scored 13 points. The squad only mustered a 2-2 slate in Group B.
The Builders, on the other hand, wound up with a 1-3 record. They beat Adroit Sports Association of Singapore in their final game, 96-81 behind Marlon Monte's remarkable 28-point, 10-assist performance as he shot 12-of-18 from the floor.
Photo from Filbasket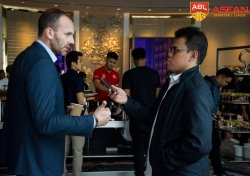 Latest posts by Levi Joshua Jr Verora
(see all)