As the dust cleared and the Filipinas now know who they will be up against in the FIFA Women's World Cup 2023 next year, players are even "more motivated" in a group in which they believe the campaign is "doable".
The Philippine women's football national team was drawn in Group A alongside co-host New Zealand, world No. 12 Norway, and world No. 21 Switzerland during the draw proceedings witnessed live by the players last week.
For defender and Hali Long, the optimism just grew even more among the players who are in the thick of their preparations for the prestigious competition.
"It's exciting. It's a very doable (group), and no matter what group we got, our goal is to always get a win and make it out of our group," Long said. "We will stick with the same goals, this time with more specifics to them."
Goalkeeper Inna Palacios also remarked how favorable the grouping was for the World Cup debutants, having played New Zealand already in a friendly last September where they only lost, 1-2.
"It was the group where we wanted to be. We already (played) against New Zealand and we kind of already feel how they would play and to see how we can be at that level as well," she shared.
"It's just exciting and now, I just feel like the team is going to be more motivated to work harder because we know who we're going to play against and we have a clear goal. We are determined to achieve them."
The defending AFF Women's Championship winners, currently ranked 53rd in the world, will continue their serious preparation for the 32-team field.
After recently facing Costa Rica in a pair of friendlies, a report has mentioned that coach Alen Stajcic and the national squad will gear up for at least 10 more tune-up matches in the lead-up to the World Cup, which kicks off on July 20, 2023.
The Filipinas will play Switzerland on July 21 in Dunedin, New Zealand on July 25 in Wellington, and Norway on July 30 in Auckland.
The top two countries in each of the eight groups will advance to the knockout stage.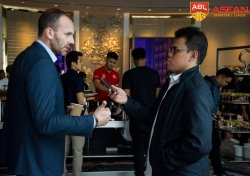 Latest posts by Levi Joshua Jr Verora
(see all)