3,173 total views, 2 views today
The Pilipinas Aguilas booked their maiden win the ongoing Filbasket International Championship in Kuala Lumpur, Malaysia, downing fellow Filipino side BGC Builders, 79-61 on Tuesday, October 25 at the MABA Stadium.
Former NCAA Most Valuable Player Prince Eze tallied a double-double of 20 points and 13 rebounds and swatted five field goal attempts to power the Aguilas. He shot an efficient 10-of-14 from the floor, while Mac Baracael added 13 points.
The Aguilas went on an 8-0 run to open the third quarter, extending their lead to 51-41. From there, the floodgates opened steadily as the winning side kept the Builders at bay.
Baracael's triple with under five minutes left in regulation gave the Aguilas a 75-57 advantage, while Eze turned the final period into his personal dunk show.
Mark Doligon had 17 points and 10 boards for BGC, although he committed seven turnovers. Raymond Matias, Marlon Monte, and Edok Doroteo all finished with 10 points each.
The Aguilas improved to 1-1 in Group A while the Builders fell to 0-3 after previously losing to Bumi Borneo, 69-82 and to Harimau Malaysia, 54-86.
Pegasus spoils Martinez's big game
In Group B, Thai legend Wutipong Dasom hit a clutch go-ahead basket to carry Pegasus Sports of Brunei to a grueling 107-105 win over James Martinez and the Makabayan Warriors Pilipinas-Shawarma Shack.
Dasom scored a breakaway layup after a rebound scramble from the opposite side of the court, giving Pegasus the two-point cushion with only four seconds left.
The Warriors had tied the match with two buckets under the final two minutes, and Dexter Mescallado attempted a left wing triple with 12 ticks to go.
In the final possession of the match, the Warriors still had a chance to win the game, but Martinez's contested top-of-the-key three went just short, only kissing the front rim.
Dasom led his squad with 19 points, and received ample support as Shean Lin Kuan (18), Run Sam Yap (16), William Tran (15), and Jean Luc Morel (14) all finished in double-figures.
Martinez had 27 points and nine assists, Mescallado chipped in 14 points, while Ken Acibar added 13 markers.
Pegasus improved to 2-0 while Makabayan slid to 1-1 in Group B.
Photos from Filbasket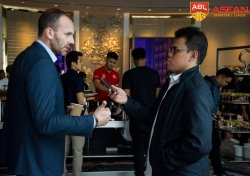 Latest posts by Nguyễn J. Văn Linh (Levi Verora)
(see all)