The Philippine contingent scored its first victory in the Filbasket International Tournament in Kuala Lumpur, Malaysia as the Makabayan Warriors Pilipinas-Shawarma Shack repulsed Elang Pacific Caesar of Indonesia in Group B, 93-86 on Monday, October 24 at the MABA Stadium.
Wing man RJ Deles had a game-high 22 points and eight rebounds, shooting guard James Martinez added 17 points and six assists, while former PBA second overall pick Maurice Shaw had a near double-double of nine points and 12 boards.
The Makabayan Warriors trailed early, but used strong middle quarters, posting a 52-38 difference in the second and third frames to assert control.
However, Elang Pacific Caesar didn't back down, and snatched the lead at 82-81 halfway into the final period.
That was when Deles, Shaw, and Wowie Escosio conspired for an 8-2 run to give the 89-84 cushion back to the Philippine team.
The Warriors side shot better from the field at 42 percent, compared to 34 percent from their opponents.
Daffa Dhoifullah led the Indonesian group with 21 points, while Aven Ryan Pratama chipped in 18 points and six rebounds. Claudie Wibowo had a near triple-double of 17 points, nine boards, and 11 dimes.
Yesterday in Group A matches, Mac Baracael scored 23 points but the Pilipinas Aguilas fell to Harimau Malaysia, 77-84, while Teytey Teodoro had 22 markers in the BGC Builders' loss to Bumi Borneo, 69-82.
Only the top two teams in each of the two groups of five will advance to the knockout semifinals.
Photos from Filbasket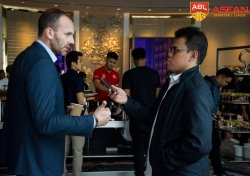 Latest posts by Levi Joshua Jr Verora
(see all)