After going head-to-head against upcoming PBA guest team Bay Area Dragons, Ateneo de Manila University head coach Tab Baldwin has also recommended playing other UAAP teams for the club's continuing buildup for the import-laden PBA conference.
The Blue Eagles fell to the Dragons last weekend, 93-102 in a game that was dominated by the latter from the first to third quarters before the UAAP first runners-up made it competitive in the final period.
"I said to (Dragons head coach) Brian (Goorjian) after the game, play some UAAP teams. Go play UP, go play La Salle. They're very competitive teams. It will be good practice for them," Baldwin shared after their tune-up game last Saturday, showing mutual respect for their fellow collegiate contenders.
Baldwin pointed out that Goorjian has not yet handled a full-strength Dragons squad for a lengthy period of time, so playing more games against top-level competition will further strengthen the squad ahead of the PBA Commissioner's Cup.
The U.P. Fighting Maroons made a quarterfinal stint in the ongoing Filoil Ecooil 15th Preseason Cup, and also had strong showings in other preseason leagues such as the Pinoyliga Cup and UCBL Invitational.
On the other hand, La Salle is currently playing in the best-of-three 2022 PBA D-League Aspirants' Cup Finals under the Ecooil banner where it has tied the series against Marinerong Pilipino, 1-1.
"Brian does a great job as a coach. He hasn't had a long time with a full roster yet. They're gonna get a lot better," he remarked.
"We'd like to play them again. We wanted to be even tougher and more competitive, and we need to be even tougher and more competitive."
Imports Myles Powell and Andrew Nicholson led the Dragons in the game, combining for 36 points.
For his part, Baldwin is grateful for the opportunity to match up against a high-caliber professional team to assess the Blue Eagles' points for improvement heading into the next UAAP season.
"We haven't had many games. The games in Japan were good but they weren't quite this level. And we found a lot of holes. Offensively and defensively, there's still a lot to work on. Now, it's right there in your face. You see it very clear," he shared.
Ateneo won the inaugural World University Basketball Series by beating schools from Indonesia, Chinese Taipei, and Japan.
The Kiwi mentor also wants the Blue Eagles to continue working on their individual skills and tendencies while putting it together into a cohesive whole.
"We knew it would be tough. Really good work out for us. Happy with the team that they were really competitive 'til the end. Guys played really hard," he added.
"It is each player finding a little more about themselves, what they're not doing right and wrong, collectively, we find out what we're doing well enough. "
Looking ahead, Baldwin bared that the UAAP Season 84 runners-up will try to use the Israel training camp to polish the system more, focusing on how to "flesh out" the system more while prioritizing "offensive attacks and defensive sophistication".
And while the Katipunan-based squad doesn't expect many scrimmages while in Israel, once they return to Manila, Baldwin says they'll make the most out of the remaining time before the new UAAP season in October.
"We don't have settled rosters. We don't have combinations that are used to working together. We have to get that. Time is running. (We had) such a disruptive build up in June and July because of injuries," he closed. "When we come back, we expect to be playing a lot of games."
It will be a tough road for the Blue Eagles to try and be a contender once again, losing key players like Tyler Tio, Gian Mamuyac, Jolo Mendoza, Troy Mallillin, and Raffy Verano.
Photos from UAAP Media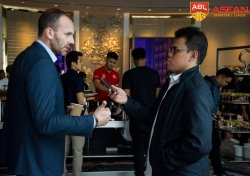 Latest posts by Levi Joshua Jr Verora
(see all)