1,545 total views, 2 views today
A hot-shooting Lebanese side thwarted Gilas Pilipinas' U19 World Cup dreams after deflating them, 99-83 in the quarterfinals of the FIBA U18 Asian Championship 2022 on Wednesday at the Azadi Basketball Hall in Tehran, Iran.
Averaging just nine points in his first two games, Bryan Mansour exploded for 16 first half points on four triples before finishing with a game-high 28 points while shooting a pristine 6-of-8 from three-point area and 10-of-17 overall. He also had seven rebounds and seven assists.
Lebanon led by as much as 23, 50-27 late in the second quarter, taking full control of the match in just the first 20 minutes.
Later, the Fertile Crescent side went on a 15-4 run bridging the third and fourth periods to establish an insurmountable 86-55 lead before stretching it up to 37 late.
Karim Rtail added 25 points and had six rebounds and four assists. As a team, the young Cedars shot close to 50 percent from the field and made 17-of-30 from long-distance.
Karl Kozah chipped in 18 points while Karl Chris Zamatta had a double-double of 10 points and 17 boards.
Mason Amos still led the nationals with 11 markers and seven boards. Kyle Daven Gamber chipped in 10 points. Earl Jared Abadam, Henjz Gabriel Demisana, and Manuel Antonio Luis Pablo all scored nine points.
However, Jared Bahay was limited to just seven points on 3-of-11 shooting. The Philippines made only 35.8 percent of its field goals.
For the first time in the tournament, the Filipinos were also outrebounded, 53-44, and out-assisted, 25-14.
Gilas will play the loser of the Chinese Taipei-Japan matchup in the 5th-8th classification, while bidding goodbye to the 2023 FIBA U19 World Cup in Hungary next year.
FIBA.basketball photo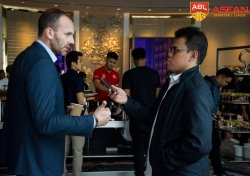 Latest posts by Nguyễn J. Văn Linh (Levi Verora)
(see all)