The Enderun Titans and University of the East Red Warriors arranged a championship showdown in the Pinoyliga Cup 2022 Collegiate Division, downing their rivals in the semifinals on Wednesday at the SGS Gym in Quezon City.
T.J. Abdalah's outside shooting carried Enderun in the first game, as he finished with 25 points, five rebounds, and three assists their 86-79 conquest of the Mapua Cardinals. He shot 9-of-16 overall and made 5-of-8 from downtown.
Big man Francis Guissani added 14 points while Hans Delos Reyes and A.J. Fransman contributed 11 and 10 points, respectively while both hauling down seven rebounds each. Roby Castro dished out a game-high nine assists.
The Titans, runners-up of the 2022 NAASCU men's basketball tournament, pulled away in the second quarter after connecting from long distance.
They hit six triples — three from Guissani — in a crippling 24-3 run which enabled them to take a 40-21 lead. Coach Pipo Noundou's wards trailed to start the game, 3-11 but worked their way back.
The Titans finished shooting 12-of-19 from three-point range overall, and held a 23-13 lead in the assists department.
The Cardinals tried their best to turn things around, but the Titans built too much of a cushion.
Clint Escamis led the Cardinals with 17 points, four boards, five assists, and three steals.
In the second game, the Red Warriors leaned on veterans Harvey Pagsanjan and Kyle Paranada for a 79-71 victory over the San Beda Red Lions.
Pagsanjan had 16 points on an efficient 6-of-9 shooting while Paranada added 12 points on four outside makes. Luis Salgado and Abdul Sawat each scored nine markers.
The game was still a back-and-forth affair in the fourth quarter, with Brendan Ocampo's free throws pulling the NCAA side within two, 64-66 with over six minutes left in the final quarter.
That was when Pagsanjan and Sawat joined hands for a 7-1 spurt to extend the margin up to 73-65 under the final last minutes of regulation.
Kent Pelipel and Alex Visser paced the Mendiola squad with 26 and 14, respectively.
Pinoyliga Cup photos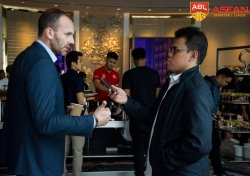 Latest posts by Levi Joshua Jr Verora
(see all)