Kristan Yumul made sure her first ever game donning a Pilipinas jersey would be special.
The 5-foot-9 shooter did not only play a large part in Gilas Pilipinas Women's 104-68 trouncing of Indonesia on Friday to jumpstart their FIBA Asia U16 Women's Championship Division B campaign; the game day apparently coincided with her 17th birthday too, so she was able to celebrate in style.
The junior out of Oxnard High School in California finished with 20 points, which included six triples on an efficient 55 percent clip.
It was a unique way to play out her special day, having been based in California her entire life and knowing little about how passionate Filipinos are when it comes to hoops.
"I only knew about Philippine basketball from my dad because he always played basketball on Sundays. I did not really know much about the national team until recently," she said prior to Friday's contest.
Yumul is one of nine players under the Fil-Am Nation banner, a group dedicated to discovering overseas-based Filipino talents in sports and entertainment.
Together with Gilas Women's overall program director and seniors national team head coach Pat Aquino, Fil-Am Nation was able to supply the players for the U16 roster through a series of tryouts.
Fil-Am Nation was also responsible for tryouts for the seniors team a few years back, which brought the likes of Gabi Bade and Stephanie Berberabe to the squad.
And Aquino saw just how talented Yumul and the rest of the team were as early as when the overseas tryouts were conducted earlier in March.
"I know their talents as early as when I saw them sa tryouts pa lang. They will be the top players we can rely on, and they proved themselves," he said.
Aquino added that the collaboration has been a success so far, as it was able to revive the U16 program for the first time in 11 years and reignite the age category national teams moving forward.
"I am very impressed, sobra. I am just so happy with this collaboration with Fil-Am Nation kasi it's something that's a spark for the program for the whole country," he said.
"It gives us more players for the next few years. I am just happy na nakapaglaro tayo and bonus na itong manalo tayo. Until then, hanggang mapunta tayo sa Division A, syempre mas maganda iyon."
As for Yumul, finally getting to play for Gilas is something she gladly ticked off her bucket list.
"It's an honor and a blessing to put on the jersey and represent our flag, also very exciting to play and experience this level of basketball," she said.
The opening win also served as a statement, as Gilas is determined to win it all and get promoted to Division A to join the rest of the continent's heavyweights.
"I think the lineup is really strong because we really play together and we were able to build chemistry in just a few months working together," she closed. "Our goal is to win and to get that experience in playing in that level."
FIBA.basketball photos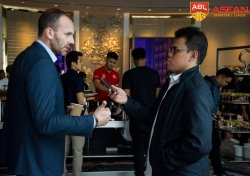 Latest posts by Levi Joshua Jr Verora
(see all)