Gilas Pilipinas Women got off to sterling start in the 2022 FIBA Asia U16 Women's Championship Division B on Friday, pulling away to dominate Indonesia, 104-68 at the Prince Hamza Sporting Hall in Amman, Jordan.
Gabriella Ramos notched a bull-strong double-double of 27 points and 20 rebounds while and Kristan Yumul added 20 points as the duo carried the nationals to an impressive victory to open the tournament.
After a slow start, Gilas started to find their rhythm, outscoring Indonesia 55-33 in the middle quarters before putting the nail on the coffin with a 32-14 fourth period.
Ramos shot 11-of-20 from the field while Yumul, a sharpshooter, made 6-of-11 from three-point area. Naomi Natalie Panganiban chipped in 15 points, eight rebounds, and five assists.
"To finally put on that jersey and officially represent my country was once in a lifetime type of feeling. A sense of pride and honor came over me when I had Pilipinas on my chest," Ramos said.
"And to get a double-double my first game felt amazing. performing well for my country is what I came here to do and today was a thrill but we still have a long road ahead."
Coach Julie Amos' girls shot better at 41 percent compared to Indonesia's 34 percent, and made six more treys, 8 to 2.
The Philippines made a game-changing 16-3 run in the third period, capped by two triples from Yumul and a layup by Ramos which made it a 66-48 cushion.
The floodgates then opened in the final frame, with a deflating 17-2 run at one point extending the margin up to 95-60.
Gilas will next take on Syria on Saturday and Samoa on Sunday in the group stages.
The champion of Division B will be promoted to Division A to join the region's best teams in the U16 level.
FIBA.basketball photos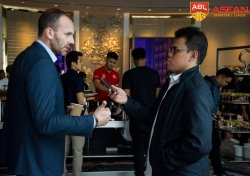 Latest posts by Levi Joshua Jr Verora
(see all)