With a scintillating 27-point, 20-rebound double-double in her very first game for the national team, forward Gabriella Ramos surely captured the attention of an entire basketball nation overnight.
The 15-year-old 6-footer made an indelible impact for the women's national U16 team in their FIBA Asia U16 Women's Championship Division B opener on Friday when they beat Indonesia decisively, 104-68.
The Clovis East star shot 11-of-20 from the field, and also finished with four assists for an all-around performance that reminded Gilas Women overall program director and seniors team head coach Patrick Aquino of another familiar name in the Philippine women's basketball scene.
"Gabby, she's all-around. Parang nakikita ko na siya 'yung magiging future Afril Bernardino natin," Aquino boldly stated, likening Ramos to the multiple-time UAAP women's basketball champion and MVP, and two-time Southeast Asian Games gold medalist.
And why not — Ramos had her imprint all over the game, be it scoring, rebounding, hustling for the loose ball, or just doing the intangibles that people will not see reflect on the stat sheets — aspects that resemble Bernardino's game and work ethic inside the court.
"I know their talents as early as when I saw them sa tryouts pa lang. They will be the top players we can rely on, and they proved themselves," Aquino added, referring to Ramos and sharpshooter Kristan Yumul who tallied 20 points on six threes.
Ahead of the competition, Ramos was already made aware of how vital her role would be for the youth team, as she was designated as the group's captain.
"Being the captain of this team means a lot to me because I think of these girls so highly and the fact that they appointed me and Kristan (Yumul) to be captain, being one of the younger ones, means a lot," Ramos said. "I feel like I'm a leader naturally but being appointed means a lot."
Ramos is just one of nine players under the Fil-Am Nation banner, which collaborated with the national team to be able to provide overseas-based talents to Gilas Women.
Given that the pandemic shut down high school competitions and even the Palarong Pambansa and regional tournaments under it, Fil-Am Nation's entry was pretty much a welcome sight for basketball stakeholders to be able to revive the U16 team for the first time in 11 years.
Current U16 head coach Julie Amos said Ramos and the rest of the Fil-Am Nation players trained overseas after being selected from a series of tryouts, before flying them to Manila to train with the other local players in the lineup prior to the tournament in Amman, Jordan.
"For two years during the pandemic, walang high school basketball programs. Nag-stop lahat. Puro lang Zoom trainings. Having that collaboration with Fil-Am Nation was really a big boost for us to come up with a U16 lineup," Amos shared.
Although Ramos grew up in California, she also familiarized herself with the magnitude of representing a basketball country and wearing the national team jersey, making sure to honor her roots properly.
"I knew that there was a love for this sport in this country but I did not know how big it was until I got (in Manila). You can really see it with the way they root for us. It's beautiful to watch," she noted.
And to finally don the national team jersey on Friday gave Ramos both a sense of pride and fulfillment.
There is no doubting that the current U16 players will succeed the likes of Bernardino, Jack Danielle Animam, Clare Castro, Janine Pontejos, and others.
"To finally put on that jersey and officially represent my country was once in a lifetime type of feeling. A sense of pride and honor came over me when I had 'Pilipinas' on my chest," she said. "And to get a double double my first game felt amazing. performing well for my country is what IU came here to do and today was a thrill but we still have a long road ahead."
And for Ramos, emulating her seniors and playing with the same mindset for flag and country is the way to be as great as them.
"Every single senior, they are the ones who set the way for us to represent the country. They set the foundation for us. I look up to every single one of them, no one more than the other. They are all my inspiration and who I aspire to be when I'm older. They are the picture of excellence in my point of view," she concluded.
It would also eliminate the need for player comparisons as she'd etch her name among the standouts in Philippine women's basketball one day at a time.
FIBA.basketball photos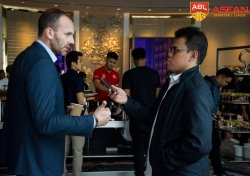 Latest posts by Levi Joshua Jr Verora
(see all)