Philippine Swimming Inc. (PSI), the country's national governing body for aquatic sports, is determined to strengthen its grassroots program to boost preparations for the next international tournaments.
According to PSI President Lani Velasco, the Philippines' recent competitive performances in the last two Southeast Asian Games as well as the 2020 Tokyo Olympics has trickled down to the grassroots level, inspiring upstart swimmers to do well and strive to be part of the national teams.
"The success of the PNAG (Philippine National Age Group Swimming Championships) served as an indicator to PSI that the swimming community is ready to get back on track," she said.
This was reflected during the PNAG held last week, PSI's first major event post-pandemic event wherein 512 participants from 63 clubs nationwide attended.
"I am especially excited to see that our swimmers, not just from Metro Manila, have maintained their form. At the PNAG, we saw plenty of swimmers from outside the capital rule their respective events," she shared.
The enthusiastic Velasco won a fresh four-year term to serve as both chairman and president of the national federation, and eagerly hopes there will be more Filipinos representing the country in the sport in various levels.
"We want to see more of our athletes qualify in various meets abroad, especially the Olympics," Velasco said, per CNN Philippines.
"Our historic exploits in the 30th SEA Games in December 2019, the valiant performance of Luke Gebbie and Remedy Rule in the Tokyo Olympics in July 2021, the notable swims of our representatives in the FINA World Swimming Championships in December 2021, and another historic run especially by our female athletes at the recently concluded 31st SEA Games earlier in May 2022, have provided our grassroots swimmers with plenty of motivation and hope."
With the next SEA Games scheduled for next year in Cambodia, as well as the 2024 Paris Olympics approaching, the PSI is hands on in finding grassroots talent to boost the national team pool and translate events into results in the international stage.
"(The) PSI is committed to resuming the Grand Prix, our flagship event for identifying grassroots talent. As we enter the second half of 2022, expect more regular events and activities from PSI," Velasco concluded. "Tuloy ang laban."
Contributed photo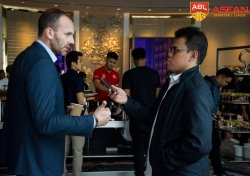 Latest posts by Levi Joshua Jr Verora
(see all)