Veteran pro Jay Washington turned back the hands of time on Saturday, delivering two pivotal performances to tow Pretty Huge to the quarterfinals of the 3×3 Thai Basketball Super League 2022 men's tournament in Central Ayutthaya.
Down one man after Raffy Verano injured his left ankle the game before, Pretty Huge leaned on Washington's heroics as he scattered 10 points on four twos in their playoff-clinching 21-14 (7:49) win over Thailand's Sriracha Eagle in Pool B.
Marcus Hammonds controlled the shaded area first and gave the Filipino side a 16-11 lead, before the grizzled 40-year-old forward sank two long-range shots towards the end of the contest that handed Pretty Huge the win.
Trevis Jackson finished with six points while Hammonds contributed five markers total as Pretty Huge beat the odds by playing with only three active players.
In their first game for Day 2 action, Jackson and Washington both had seven points in a decisive 19-12 win over Laos' Luang Prabang.
The two PBA pros had two long-distance makes each, while Hammonds and Verano added three and two points, respectively.
Sriracha Eagle featured Kurt Calaguio, the son of former PBA pro Christian, as well as Thai No. 17 Panthawat Techasamran, Zambia No. 1 John Kabwe, and Nitipat Tedsakan.
Luang Prabang, meanwhile had Ibrahim Diaby, Phoummalin Duangdeuane, Thavatxay Phongphumy, and Tychique Bosango.
Verano would only only play one of Pretty Huge's three contests for the afternoon.
The only blemish in what otherwise could have been a remarkable Day 2 campaign for Pretty Huge was their slim 16-15 loss to the Hitech Titans.
The Titans were bannered by Thailand national team mainstays Chanatip Jakrawan, Sukhdave Ghogar, Thanakrit Limjittakorn, and Montien Wongsawangtham.
Pretty Huge wounded up with a 3-2 record for the third seed in Pool B.
They will face Tokyo Dime (Japan) tomorrow in the knockout quarterfinals. Reserve Ryan Monteclaro will step up to the plate, replacing Verano who has been ruled out for the playoffs.
Photos from บาสวันละสองแต้ม Facebook page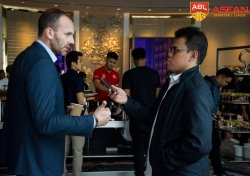 Latest posts by Levi Joshua Jr Verora
(see all)