Filipino bets Pretty Huge and the Zamboanga Valientes both bounced back from opening-game jitters to split their Day 1 assignments and post 1-1 records in the men's tournament of the 3×3 Basketball Thai Super League 2022 on Friday in Central Ayutthaya.
Veteran marksman Reed Juntilla exploded for 17 points on six two-pointers to lead the Valientes to a 21-13 (7:50) win in Pool A over KAGA Basketball (India)'s Eric Framjee, Govinda Sharma, Jaideep Singh, and Parvesh Bhatia.
Juntilla scored the first six points of Zamboanga — all on long twos — before Juan Gomez de Liano's own two-point make and a layup by Issa Gaye extended the margin to 17-12.
Then, Juntilla knocked down back-to-back deuces to seal the win with 2:10 left.
The win avenged a heartbreaking 19-18 overtime setback at the hands of Tokyo Dime earlier.
In their opener, Issa Gaye initially gave Zamboanga a 17-16 lead with 18 seconds left in regulation, but Japan No. 6 Soichiro Fujitaka scored a put-back with seven ticks remaining to send the game to extension.
Juntilla had the first basket of the first-to-two overtime period, but Fujitaka banked in a two-pointer to stun the Valientes.
Tokyo Dime is also represented by Mie Birishibe, Japan No. 7 Masahiro Komatsu, and Japan No. 4 Keita Suzuki.
Gomez de Liano had 11 points in the loss, while Gaye added four baskets. Juntilla had three, but Al-Daser Esa went scoreless.
Pretty Huge also at .500
Meanwhile, Pretty Huge's Jay Washington, Raffy Verano, Marcus Hammonds, and Trevis Jackson had a balanced scoring effort as they prevailed, 14-13 over the Saitama Alphas (Japan) in Pool B.
Their opponents which featured a former Top 100 3×3 player in Serbian Marko Milakovic, along with Masaki Kato, Japan No. 25 Ryuto Yasuoka, and Japan No. 36 Tomoya Ochiai.
Down 5-8 midway in the contest, Pretty Huge unleashed an 8-3 run to take a 13-11 advantage with just over two minutes left.
Jackson made a go-ahead two first, before Verano's jumper gave more cushion for the Filipinos in the tight ballgame.
After a couple of empty possessions, Hammonds extended the lead up to 14-13, before Ochiai countered with a layup in the last 55 seconds.
Pretty Huge then missed some attempts, leaving the door open for the Japanese side but Ochiai muffed his top-of-the-key two attempt at the buzzer.
Hammonds and Jackson each had four markers in the win, while Washington and Verano each chipped in three.
Unfortunately, their record was already blemished the match before, when they absorbed a 21-15 (5:50) loss to Malaysia Rising Star's Run Sam Yap, Jin Xi Yap, Lee Jia Jun, and Zhen Kang Leong.
The Malaysians scattered six twos in the match, and had an 11-1 run that enabled them to take a 16-6 lead at one point.
Hammonds led the squad in their opener with 11 points, while Verano and Jackson contributed four and three, respectively.
It will be an even tougher Day 2 for both teams as they will play three games each.
Only the top four teams in each of the two pools consisting of six squads each will advance to the eight-team quarterfinals on June 5.
Photos from Zamboanga Valientes and Pretty Huge Facebook pages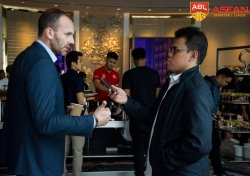 Latest posts by Levi Joshua Jr Verora
(see all)