3,653 total views, 2 views today
With two WNBL Pilipinas 3×3 titles, the Uratex Dream entered the 3×3 Basketball Thai Super League 2022 women's tournament as one of the field's favorites.
But in the final, it was Shooot it Dragons who showed why Thailand is the reigning queens of Southeast Asian 3×3 hoops.
Featuring SEA Games women's 3×3 gold medalists Rujiwan Bunsinprom and Amphawa Thuamon along with Thunchanok Lumdappang and Supira Klanbut, the Dragons ran their offensive game plan excellently for a decisive 17-11 win on Thursday, taking home the Level 4 tournament title in Central Ayutthaya.
After three straight points from Alyssa Villamor cut the deficit to 10-11, the Thai side went on a backbreaking 6-1 run that sealed the championship.
Philippines No. 1 Kaye Pingol had a put-back with 1:36 left which pulled Uratex within 11-14, but the Dream couldn't make stops as the Dragons kept looking dishing extra passes to for uncontested layups.
Villamor had six points, while Pingol added four in the loss. The country's No. 2-ranked Kristina Deacon was limited to only one basket.
Prior to the loss, the Dream swept their first five games which included a 20-15 semifinal win over fellow Pinay representative Discovery Perlas.
Interestingly, only the Shooot It Dragons squad was able to beat both Filipinas teams throughout the two-day tournament.
Perlas took home third place with a 21-18 win over another Thai group, Sriracha Eagle, earlier in the day.
Photo from บาสวันละสองแต้ม Facebook page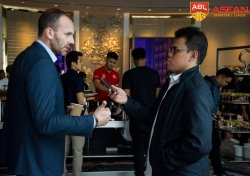 Latest posts by Nguyễn J. Văn Linh (Levi Verora)
(see all)