Discovery Perlas cemented their return to competitive women's basketball by taking 3rd place in the 3×3 Basketball Thai Super League 2022 women's tournament on Thursday in Central Ayutthaya.
Forward Allana Lim steered the Cynthia Tiu-managed squad to a pulsating 21-18 (9:27.8) victory over Sriracha Eagle Thailand, represented by Parida Naumkong, Pimthicha Jantarwong, Piyanuch Sriprem, and Wannapa Nonsiri.
Lim scattered 15 big points for the Filipinas, answering with timely baskets every time the Thais knocked on the door.
Down 5-7 early, Perlas went on an 8-0 run to take a 13-7 lead. The stretch included four straight points from Lim.
But Sriracha Eagle did not back down, knocking down two straight deuces as part of five unanswered points to cut the deficit down to 13-12.
From there, it was a back-and-forth affair. Lim would score back-to-back baskets inside, but another two allowed the Thais to tie the count at 17-all with 1:52 remaining.
Fortunately, Lim converted an and-one play after; Perlas would then get some stops before Lim sealed the win at the 32.2 mark with a getaway move.
Lim scored the last four points for Perlas. Hazelle Yam added four points while Misaela Larosa and veteran Ford Grajales added a basket each.
Discovery only lost to fellow Filipina squad and eventual finalist Uratex Dream in the all-Pinay semifinals, 20-15.
Perlas had no answer for Alyssa Villamor, who knocked down four twos for 12 points.
Villamor's long-range make with 55 seconds left proved to be a dagger, giving the two-time WNBL 3×3 champions an 18-14 lead late.
Discovery is one of the oldest active competitive women's basketball clubs in the country.
Prior to the COVID-19 pandemic, the club regularly holds 3×3 tournaments locally, as well as participating in invitational 5-on-5 cups overseas.
Photos from บาสวันละสองแต้ม Facebook page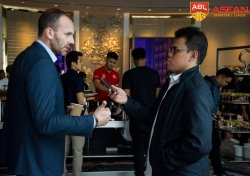 Latest posts by Levi Joshua Jr Verora
(see all)