After Cebu and Manila's breakthrough quarterfinal finishes in the recently-concluded FIBA 3×3 World Tour 2022 Manila Masters last weekend, backer Chooks-to-Go is determined to take them to the next level.
The Masters provided both basketball stakeholders and enthusiasts a detailed view of what else the Philippine 3×3 teams need to do to be able to compete regularly at a high level against FIBA's best professional 3×3 squads around the world.
This was as Serbian powerhouse squads Ub and Liman forged a title showdown with the former taking the crown via a slim 20-17 win.
Chooks-to-Go President Ronald Mascarinas understands that in order for Cebu and Manila to become even more competitive in 3×3, they should play in top-flight 3×3 tournaments.
He bared that one potential plan is to have Mac Tallo's Cebu and Chico Lanete's Manila teams participate in the European FIBA 3×3 Challengers, which is part of the FIBA 3×3 World Tour calendar this year.
"Tingin ko, the entire month of July, they should stay in Europe," Mascarinas said, explaining that the Filipino teams should be exposed to the level of competition there.
According to the FIBA 3×3 World Tour website, there are six Challenger events happening throughout the month of July in the continent:
Poitiers Challenger (July 1-2)
Bordeaux Challenger (July 5-6)
ING Hamburg Challenger (July 8-9)
Pristina Challenger (July 16-17)
Lipik Challenger (July 22-23)
ABA Edmonton Challenger (July 30-31)
"If they will allow us to bring two teams, then so much the better. Basta, lahat ng Challengers or any international tournaments that we are invited, we will participate," Mascarinas added.
The Chooks teams may be invited as wildcard teams for the Challengers, and given that the roast chicken brand also signed a global partner deal with FIBA 3×3, there is more leverage to have them play in as many tournaments as possible.
"The Challengers are higher-level tournaments, kaysa local tournaments … Ang importante sa atin is really, 'yung exposure ng players natin."
There is no denying that both Cebu and Manila have made significant strides in the last four months.
Cebu won the Chooks-to-Go Asia Pacific Super Quest last month in Laguna, while Manila made the semifinals of the Ulaanbaatar Super Quest earlier in the month.
The team's collective progress was highlighted even more when they made the Last 8 of the Manila Masters. Cebu, in particular, earned the respect of the Ub squad after putting up a brave stand before falling, 21-17.
The Philippines has also risen to No. 18 in the world from No. 27 after their participation and hosting of events brought them valuable points in the overall ranking list.
However, Mascarinas himself thinks they have ways to go if compared to the Serbian clubs, which have set the standard in 3×3 basketball around the world.
"If we are going to succeed in the (Olympic Qualifying Tournament), napakalayo ng agwat ng level of play natin against sa mga Serbians," he expounded.
"They've been together for seven years, at least most of them. Serbia, nakuha na nila 'yan eh. Nadevelop na nila ang expertise. Makikita mo 'yun eh. It came with experience playing the game … Sa atin, I think the best way, the best chance para at least lumapit man lang ang level natin is to expose our players to European (3×3) basketball."
And their possible participation in the Challengers would be key in raising the selections' caliber of play with the 2024 Paris Olympics also in mind for the long-term.
'Yung participation ng Cebu and Manila sa mga Challengers na ito, this will prepare the teams for the Cebu Masters," Mascarinas noted.
The Cebu Masters will be hosted at home from October 1 to 2.
While playing overseas remains the priority for Cebu and Manila, having a regular domestic league is also a possibility in the next few months.
Mascarinas shared that a handful of teams, including MPBL selections, have already signified interest in fielding 3×3 groups.
This will further maintain the conditioning, skills, and team chemistry of Cebu and Manila's players.
"For as long as walang international tournament, weekly, mayroong one-day invitational," Mascarinas said. "Every week, para tuloy-tuloy ang (laro) ng mga players … Para 'yung development ng 3×3 players natin, tuloy-tuloy. It's really for the sport to develop. We will need (domestic leagues) na inclusive."
Cebu is represented by Tallo, Zachy Huang, Brandon Ramirez, and Mike Harry Nzeusseu, while Manila is bannered by Lanete, Dennis Santos, Ken Holmqvist, and Henry Iloka.
"Pati 'yung mga local teams, kapag nagbuo sila, alam nilang may lalaruan sila," the Chooks big boss added.
No less than Serbian 3×3 coach Marko Zdero, formerly a part of the Novi Sad dynasty that ruled 3×3 competitions in the past decade, recognized the Philippines' potential when it comes to the sport, and added that they are willing to help the country progress further.
More exposure, regular participation in tournaments, and playing 3×3 fulltime were among the factors why Serbia has been and continues to be more successful in the discipline.
The entire Chooks delegation understands this, and the encouraging signs from the weekend only serve as motivation to lay down the path for what lies next.
FIBA.basketball photos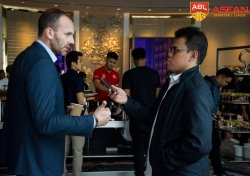 Latest posts by Levi Joshua Jr Verora
(see all)