Right in a basketball-crazy country reminiscent of their homeland, powerhouse squad Ub Huishan NE stamped its dominance in the FIBA 3×3 World Tour 2022 Manila Masters on Sunday with a 20-17 win in the final over fellow Serbian side Liman Huishan NE.
Both heavily-favored entering the tournament, Ub — winners of the Utsonomiya Opener in Japan just two weeks ago — and Liman proved why they have been among the top-ranked 3×3 teams in the FIBA professional circuit for a long time now.
Ub and Liman outclassed every opponent that stepped in their way by an average winning margin of 7.5 points before forging a fitting all-Serbian finale, as the hundreds and hundreds of hoops-loving Filipinos inside Ayala Malls Manila Bay could only marvel at how seamlessly the two squads romped past the 14-team competition.
What a lot do not see, however, is the extraordinarily lengthy path these 3×3 clubs have taken in the last six years before establishing themselves as the best teams in the discipline.
World No. 1 and No. 2-ranked 3×3 players Strahinja Stojacic and Dejan Majstorovic of Ub bared the mind-boggling details of how the country has been a step ahead of the rest when it comes to producing the best teams and individuals in 3×3.
Majstorovic shared that his club participates in about "20 to 25 international tournaments" in a calendar year to maintain tiptop shape and mastery of the game.
"I started to play the sport in 2014. We started to play in Serbia, then you win some tournaments in Serbia to go to Europe, (and go from there)," the now 34-year-old Majstorovic said. "It was hard work."
This is on top of about 35 domestic 3×3 leagues in Serbia all-year round.
"Every weekend, there are one or two tournaments. But we don't play there. Maybe we will play one or two (in a year) in Serbia, but everything else is around the world," Majstorovic added.
Known by his monicker "The Maestro", Majstorovic was crowned Most Valuable Player of the Manila Masters,  tallying 33 points throughout the two-day competition.
He was formerly a part of the famed Novi Sad squad that included the likes of Dusan Domovic Bulut, who reigned as the No. 1 3×3 player for years, Marko Savic, and now Serbian 3×3 coach Marko Zdero who was part of the contingent in Manila.
After Novi Sad parted ways, Majstorovic joined Ub, which has been competing in the highest 3×3 competitions for almost six years now.
"This is my new team, I started to play with them last year. And we get better and better every tournament. I am happy that I get to share the court with them every day. I just want to stay focused and win more and more tournaments," he added.
Even without Majstorovic prior, Stojacic was Ub's main man, helping them every year to win FIBA World Tour Masters titles.
Two of their compatriots in Liman, Aleksandar Ratkov and Mihailo Vasic, were also bronze medalists along with Majstorovic in the first-ever Tokyo Olympics 2020 3×3 men's tournament.
Serbia's on-going supremacy in 3×3 does not come without sacrifice. Given their tedious, almost year-long schedule, the players also have to be away from their families during the 3×3 season.
"We really miss the kids a lot. That's a long time without them, but this is our job. We need to do," Majstorovic shared.
"Our families are big support for us. We miss them too much, we just wait after. It's a long time, we don't see our kids, we miss them, but this is our job, and it's normal," Stojacic furthered.
They also have to prepare their bodies physically and their minds mentally for the long, taxing grind.
"When you start to play this sport after six or seven months, you will (get accustomed) to the long trip and you will need to be prepared. It's a big thing in this sport, and you need to have time to rest," Stojacic added.
"We are really focused on the sport. It is our job. We live with 3×3, all day we think about 3×3, family and 3×3. It's our job. We practice two times a day for the last four or five years."
Stojacic also mentioned that at some point, the best 3×3 players in Serbia had to decide whether to continue playing five-on-five, or focus on 3×3 for good.
"We all played five-on-five basketball for many years and one day, we're told we have two choices: to stay in five-on-five or go totally to 3×3," The 29-year-old Stojacic said.
He argued that for the Chooks-to-Go squads to also be able to compete at a high level, the same sacrifices must be made.
"(Mac) Tallo is perfect (for 3×3), (Brandon Ramirez) is a perfect player, but they need to be focused. We are practicing all year in 3×3. If they play more five-on-five than 3×3, that's the only reason why they can't play with the best teams in the world," he emphasized.
"It's their choice … You can't play five-on-five and 3×3 at the same time. It's not easy. It's totally different."
He heaped great praise for Cebu Chooks, bannered by top Filipino 3×3 players Mac Tallo and Zachy Huang, but at the end of the day, being fulltime 3×3 players spelled the difference for Ub.
"They are so talented and they play good basketball. But they're not focused (fulltime) on 3×3. They play five-on-five. And they're different. I talked to Tallo and he said, maybe one day, he'll focus on just 3×3 and I think they will be a great team," Stojacic added.
Interestingly, both Ub and Liman played scrimmages with Cebu Chooks as part of their two-week preparation for the Manila Masters, and Majstorovic told Cebu and Ub managed to split their matchups.
"Cebu team, they're really good. We played with them (in practice) and it was a tie result. We beat them once, they beat us once," the 6-foot-7 forward said of the Filipino squad which also gave Ub some fits in the pool stages before the Serbians managed to pull off a 21-17 win.
"Tallo, he's an amazing offensive player. He scored five twos against us. I think if they give themselves space to be better every day, keep working hard, they can be a good team in the World Tour."
To top it all off, Zdero also opened up on his ambitious Serbian 3×3 academy to reach the grassroots level and train them properly in the sport as early as possible.
Ultimately, the former Novi Sad guard also said that the Philippines' basketball powers that be will also schedule visits to Serbia in the immediate future to further get an idea of Serbia's blueprint to 3×3 success.
"It's a lot of training camps in Serbia, I think we made a deal with the Philippine federation to come to Serbia and tour something new and to make a lot of experience in 3×3," Zdero said.
"Because we think they have a lot of potential in 3×3 and I think we can help them in a good way to do that."
The past weekend produced encouraging signs for both Cebu and Manila Chooks. They were able to make the quarterfinals of a Masters tournament for the first time ever, after a fruitless campaign last 2021.
Looking ahead, Chooks-to-Go big boss Ronald Mascarinas intends for both teams to join as many international tournaments as possible for as long as they get invited, aside from pushing a domestic 3×3 league in order for the squads to gain more experience and stay in tiptop shape.
The Chooks 3×3 program for Tallo's batch is relatively young compared to the Serbian clubs which have been competing for more than five years now.
Still undone and determined to etch more milestones into their already lengthy 3×3 resumes, both Strahinja and Majstorovic are driven at the prospect of winning the gold at the 2024 Paris Olympics.
"A lot of dreams came true because of this sport. But the time is still not done, and I want to play in the 2024 Olympics in Paris. I have a lot of motivation," Majstorovic closed. "And I really want the gold."
Perhaps, by that time, the Philippines is also able to replicate at least a fraction of what they have accomplished.
The blueprint to success is there — fulltime players, regular tournaments, and grassroots level 3×3 — so it's only the follow-up to the groundwork that needs to happen.
FIBA.basketball photos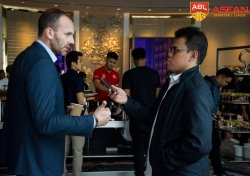 Latest posts by Levi Joshua Jr Verora
(see all)