Philippine 3×3 basketball will be well-represented as four teams go for glory in the upcoming 3×3 Basketball Thai Super League 2022 tournament slated to happen from June 1 to 5 in the Ayutthaya District.
Uratex Dream, the No. 1 women's 3×3 squad in the country, will be bannered by Filipina No. 1 and No. 2-ranked FIBA 3×3 players Kaye Pingol and Kristina Deacon, along with UAAP alumnas Alyssa Villamor and Eunique Chan.
Regional 3×3 basketball is nothing new for Uratex, having participated in the ASEAN Basketball League (ABL) International 3×3 Cup last month.
Deacon and company were able to beat Singapore, 18-15 in that tournament although bowed down to other clubs.
This time, Uratex will compete against NK Bangkok Club (Thailand), Jumpshot (Singapore), and Luang Prabang (Laos) in Pool A.
Making their return to competitive basketball for the women's side after two years to join Uratex is Cynthia Tiu's Discovery Perlas, which shall be represented by veteran Ford Grajales, Misaela Larosa, Hazelle Yam, and former UAAP Finals MVP Allana Lim.
"I think after two years na walang sports, kahit sa UAAP, everybody is excited and happy the sport that we all love," Discovery head coach Haydee Ong said.
Perlas is slotted in Pool B along with Shooot it Dragons (Thailand), Srircha Eagle (Thailand), and Malaysia Rising Star.
In the men's division, Pretty Huge Basketball will make their maiden 3×3 appearance with a loaded lineup composed of Jay Washington, Marcus Hammonds, Raffy Verano, and Trevis Jackson.
The will compete against Srircha Eagle (Thailand), Saitama Alphas (Japan), Luang Prabang (Laos), Hi-Tech Titans (Thailand), and Malaysia Rising Star in Pool B.
Completing the four-team Filipino contingent are Juan Gomez de Liano, Denver Cadiz, Reed Juntilla, and Al-Daser Hajiri Esa of the Zamboanga Valientes.
Battling in Pool A, the Valientes will face Sniper X (Thailand), Tokyo Dime (Japan), Team Busy (Singapore), Shooot it Dragons (Thailand), and KAGA Basketball (Indonesia).
In the men's division, only the top four teams in each of the two pools advance to the playoffs starting with the knockout quarterfinals.
On the other hand, no team will be eliminated after the pool phase in the women's division since there are only eight teams total. They will be seeded according to their records come the quarterfinals.
Photos from Uratex Dream Facebook page, BBM CLS Knights Indonesia Facebook page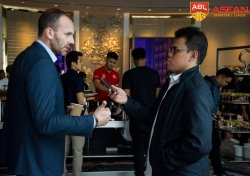 Latest posts by Levi Joshua Jr Verora
(see all)