2,047 total views, 2 views today
Ever since becoming the FIBA 3×3 resident commentator, Kyle "The Voice" Montgomery has always shown appreciation for Filipino basketball fans.
"They always show love … It's just a huge fanbase, they always give us great numbers online on the stream, so I got a lot of love and puso for the Filipino fans," the veteran sports anchor said.
In fact, a slip-up while in the midst of his 2017 FIBA 3×3 World Cup broadcast gave him an even more magnified view of just how glued Pinoys are when it comes to hoops.
"I had a hiccup a few years back, I think I said (Kiefer) Ravena was married already, and that was my first taste of knowing just how powerful the social media is with the Filipino fans," Montgomery shared shortly after the FIBA 3×3 World Tour 2022 Manila Masters concluded last Sunday.
"They are watching, they are listening, they love 3×3, they know their hoop, and they apparently know their relationships too," he recalled with a grin on his face.
Of course, Montgomery was referring to the time when he accidentally said on-air that Ravena and his girlfriend, volleyball superstar Alyssa Valdez, were already "married" — a line that resonated on social media and immediately went viral.
"It was so crazy, funny, and hilarious. It was really funny. Alyssa and I talked about it," Ravena said back in 2017.
Ravena was part of the Philippine 3×3 team that competed in the World Cup, along with JR Quinahan, Kobe Paras, and Jeron Teng.
He acknowledged that it was only credit to Montgomery always doing his homework as FIBA 3×3's commentator.
"Kyle, he gives out great information for everybody not watching over here. He makes the game really feel at home and live for everybody around the world. It was just funny."
Montgomery's maiden visit to the archipelago happened when the Philippines hosted the World Cup the next year at the Philippine Arena in Bulacan.
This gave the broadcaster the first-hand experience of having a Pinoy basketball crowd get involved throughout the event.
"I love 3×3 in the Philippines. I haven't been back since 2018 when we had the World Cup here, but that was my first taste of the home Filipino flavor and vibe," he shared.
Now back after four years and having the luxury of more time, Montgomery also made sure to take more time in immersing himself and exploring a few different tourist spots while staying in Manila to enjoy the perks of his job — and to get an even better understanding as to why Filipinos love basketball.
"I love it, trying the food, experiencing the culture, I was here two weeks before the tournament so I got really immersed in the culture," he said.
Montgomery even uploaded a few posts on his official Instagram account, @3x3thevoice that had him in front of the Carriedo fountain.
Among the highlights of his Manila visit was being able to explore Binondo and riding a tricycle while casually just wearing a basketball sando jersey, as well as having a guesting for radio station Magic 89.9.
"3×3 really embodies streetball and I think the Filipino players really bring that to the table. The competition is always amazing, that fans are always supportive," he added.
"Even, you saw the final (between Ub and Liman), there weren't any Filipino teams but the fans were still here, they cheer because they love the game."
The Manila Masters is one of two Masters events lined up for the World Tour calendar in the Philippines, with the other to be held in basketball hotbed Cebu in October.
And as early as now, Montgomery also hopes to be able to spend quality time in another popular Filipino tourist destination.
That's on top of expecting Cebu and Manila Chooks to showcase topnotch basketball yet again when the Cebu Masters tip off.
"Without a doubt. I am looking forward to the hoops, but Cebu is a spot I haven't been in. I heard it's beautiful, everybody's telling me that I have to absolutely go to the beach," Montgomery shared. "So I am going to schedule some extra time either before or after the Cebu Masters, but I'm expecting the Filipinos to come show up in full force."
"Cebu played really, really tough and Manila also made it to Day 2. I'm expecting great things from the Filipino teams and I'm expecting another top-shelf Masters. I'm glad Chooks-to-Go and FIBA signed that long-term deal to be global partners, so I'm expecting to have a really high-level 3×3 here," he added.
FIBA.basketball photo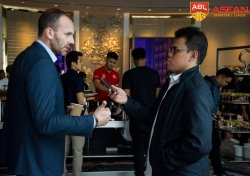 Latest posts by Nguyễn J. Văn Linh (Levi Verora)
(see all)