As the final buzzer sounded inside the Thanh Tri Gymnasium in Hanoi, Vietnam and Indonesia erupted into celebration at center court to celebrate a historic Southeast Asian (SEA) Games basketball title, Filipino sports fans back home knew something felt wrong.
For the first time in 31 years, Gilas Pilipinas did not finish with a gold medal in the men's 5-on-5 basketball tournament of the biennial meet — an event the squad had always dominated and where the entire country expected nothing short of the championship each time being a basketball-crazy nation.
Prior to Sunday, the nationals had won a total of 18 gold medals since the inaugural tournament in 1977 — the most bemedaled nation in the sport.
Naturally, pundits are quick to unfurl criticisms and point fingers. Blame Coach Chot Reyes. Blame the Samahang Basketbol ng Pilipinas. Blame Filipino basketball for taking competition for granted.
The debates have been endless, yet they do not get anything across.
If there is one person who understands the magnitude of competing in the ASEAN level in the past decade, it's Chot Reyes.
In 2017, Reyes and the SBP had a full-strength Gilas squad for the SEABA Championship hosted in Quezon City.
The team was bannered by no less than naturalized center Andray Blatche, whom at that time was still playing at a high level.
The team's composition raised a few eyebrows based on the notion that our regional counterparts aren't that competitive, but Reyes begged to disagree.
"We're not shoo-in in the FIBA Asia and we have to win the SEABA Championship … If we need to bring along Andray Blatche, we'll do so," Reyes told PhilStar.com in 2016 when he was in the thick of preparations for the May 2017 joust.
As they say, it's better safe than sorry. Reyes had anticipated better competition from Gilas' regional rivals, citing the ASEAN Basketball League and the rise of domestic leagues in countries like Thailand, Malaysia, Indonesia, and Vietnam.
"We all know that the Southeast Asian neighbors have already caught up because meron na silang sariling tournament and then they have the ABL," Reyes shared, as per Dugout PH.
"We used to send college players, but they were up against pros, kaya mahirap. Now, we already know that Indonesia has a naturalized player. I think Thailand is also going to have a naturalized player. That's why we have to bring our best. Dati, sureball yung Southeast Asia. Now, it's no longer [the case]."
Reyes' sentiments weren't without merit. The Philippines had its fair share of close scares as early as the 2015 SEA Games, when an amateur-laden selection only managed to beat Thailand in the semifinals by five points.
In the 2017 edition in Kuala Kumpur, Gilas again just narrowly defeated the Thais by seven points, before edging Singapore by eight in the semifinals.
Even Reyes' colleague, Meralco Head Coach Norman Black, justified Reyes' decision to field an all-pro squad for the SEABA wars five years ago.
"I think Chot just wants to make sure he wins the tournament because at least there's something bigger, there aren't any hiccups, so by sending a pro team, plus a naturalized player, you put yourself in a very good position to win," Black told Spin.ph's Karlo Sacamos.
As expected, Reyes' 2017 SEABA squad composed of Blatche, Matthew Wright, Roger Pogoy, Gabe Norwood, June Mar Fajardo, Japeth Aguilar, Allein Maliksi, Calvin Abueva, Jayson Castro, Terrence Romeo, Troy Rosario, and Raymond Almazan romped past the competition for a perfect 6-0 record and the title.
They walloped their opponents for an average winning margin of 58.3 points, punctuated by a 147-40 victory over Myanmar – a game where Reyes and his troops played "the right way", as per ABS-CBN News.
"We told the players that a lot of times in international competition, tayo ang dehado. It's very rare na we come to a game na tayo ang lyamado. So could we play with the same kind of intensity and effort, even if we are the favored team?," Reyes said, as per Camille Naredo of ABS-CBN.
"That was the question we posed before the players before the game. As far as we're concerned, we just want to make sure that we are coming out and playing the game the right way."
True enough, there is no other than for Gilas to play it the way Reyes had said. The Philippines' ASEAN counterparts have been catching up to the former's level, and respect should always be given.
The days where the Philippines can just parade a bunch of random players and expect to easily trounce Southeast Asian competition are over.
"The level of competition is so high amongst ASEAN teams. Seeing it firsthand, playing against Vietnam and Singapore, two countries which we count out often, they are well-coached, very modern system. As for Singapore, everyone can shoot, they have 6-4, 6-3 players who play guard and shoot from the outside," Zamboanga Valientes center Darwish Bederi shared.
Bederi was part of the Valientes squad that participated in the ABL International Challenge Cup, a preparation tournament for the SEA Games as well as ABL's long-term restart plans in the post-pandemic era.
"Siguro nga noong panahon before, 'yun ang stigma, but Vietnam for example has a lot of Viet-Ams, and they're really good. Ang ganda ng sistema nila. I am lucky to be able to play against these athletes. It's no joke," he furthered.
Even Malaysia's team, whose core also comprises KL Aseel, gave fits to Filbasket teams back in April and wound up with a 6-5 elimination round record against arguably second-tier to first-tier level pro Pinoy talents.
"Nag-improve na talaga sila," Valientes wing man Jojo Cunanan added.
What Indonesia did last Sunday is testament and credit to various moving parts that make up the whole: local leagues, grassroots programs, participation in regional competitions like the ABL and FIBA Asia Champions Cup, and heck, even NBA's global presence in these countries.
There was no magic to what Indonesia did, just sound strategizing and planning for decades. It's not even coincidence that their program director, former Gilas 1.0 coach Rajko Toroman, also left a lasting impact to Pinoy hoops.
Granted, it was their full-strength roster — probably a once-in-a-generation collection of talents such as NBA prospect Michael Zxavierro, naturalized center and former NBA G-Leaguer Marques Bolden, Japan B.League Asian import Brandon Jawato, and a cream-of-the-crop lineup of local stars like Abraham Grahita and Prastawa Dhyaksa that would be difficult to replicate for future competitions.
Still, they had won, and Filipino basketball fans should not take that away from them. It's no secret that Indonesia's ultimate goal is to qualify for the 2023 FIBA Basketball World Cup by placing in the Top 8 of the FIBA Asia Cup it is hosting later this year.
To say that Filipino basketball is in shambles just because Gilas' ASEAN counterparts beat them is blatant disrespect to their hard work and efforts to catch up to the Philippines' level — a standard it had set for years.
The United States colonized the Philippines and introduced the sport (to YMCA women first, ironically), so it is only natural that Filipinos — in the region — had enjoyed vast success in the early decades of the previous century in basketball, mastering it first.
But basketball is also a global sport, and it's no secret that Southeast Asian countries have found interest in the game, and since then, they've grown as well.
It's wrong to gatekeep basketball as if the Filipinos are the only race in the ASEAN region entitled to own it.
People should not be surprised anymore if Indonesia, Thailand, Vietnam, Malaysia, and Singapore continue to become more competitive, recruit more overseas-based heritage players, and urge their respective basketball federations and powers-that-be to pour in all their efforts because they have realized how great they can become at the sport.
On the other hand, this loss should not define what Philippine basketball is, nor is it an alarming wake-up call. On any good day with a full-strength roster and solid preparation, Gilas will still be heavily favored against ASEAN competition. Fans should even be positive that some of the best unavailable players for the Philippines are busy overseas, which means they belong in a different level.
Indonesia's win also doesn't mean they have what it takes to regularly beat the Irans, Japans, Chinas, and Koreas of the continent. In the end, you're only as good as your last game — which also applies to those still caught up in Gilas being able to be competitive back in 2014, or "almost" beating Serbia in 2021.
Gilas remains a top-tier Asian team, and a squad always poised to make the FIBA Basketball World Cup level with an overwhelming pool of talent and a plethora of professional leagues.
The defeat does not equate to Philippine basketball on the decline — though it will surely make the powers-that-be more wary of the current situation and trends in the region.
Japan, Korea, Taiwan, and New Zealand's Asian import quotas in fact only help Filipino players adapt more to international competitions, which prove beneficial when they are called up for national team.
Remember when Dwight Ramos and Thirdy Ravena both led Gilas back in the February 2022 FIBA World Cup Asian Qualifiers window? Yep. Jordan Heading has also been tearing it up in the Taiwan T1 League with mind-boggling shooting numbers.
As for the SBP, they also have been hands-on with FIBA-guided coaching programs led by veteran tactician Jong Uichico, for coaches all over the archipelago to "unlearn" bad habits and guide players right from the grassroots level on how to play the game with a more international approach.
This is not to say that the SBP is perfect, either. The national governing body will need problem-solving and long-term planning and have all stakeholders involved. Again, there are many moving parts to make up a synergized whole.
But that is a conversation to have for another day. Indonesia won, period. Overreacting is understandable as basketball has been the de facto national sport for so long — already tantamount to a religion. But it will not take Gilas anywhere.
As they say, today is history, and tomorrow is a mystery. See you in the 2023 FIBA Basketball World Cup.
FIBA.basketball file photos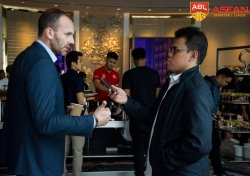 Latest posts by Levi Joshua Jr Verora
(see all)