2,293 total views, 2 views today
Ting Chun Hong once again showed his caliber when it mattered most, towing Malaysia in a strong third quarter run to help his national team upend Vietnam, 67-56 and win third place in the 2022 ASEAN Basketball League (ABL) Pre SEA Games Challenge on Friday at the Liga Bali Arena in Indonesia.
Down by five in the early goings of the third frame, the Filbasket Most Valuable Player contender for Kuala Lumpur Aseel had 11 big points in a crippling 17-2 run which allowed the eager Malaysia side to take a 51-41 lead against Vietnam.
From there, the Malaysians were able to foil any comeback attempt from the Red and Gold to secure third place in the short four-day tournament.
Ting finished with 25 points on 10-of-18 shooting from the floor and 8 rebounds.
Veteran big man Kwaan Yoong Jing provided the ample support with his 12-point, 10-rebound double-double off the bench.
Kwaan had a tremendous display defensively as well, limiting Chris Dierker to only a point and a single shot attempt in 20 minutes. Nguyen Huynh Phu Vinh was also shut down to only 3 points.
Christian Juzang had 15 points for Vietnam, but was limited to only 1-of-15 from the floor and 1-of-8 from three-point area.
Vo Kim Ban, one of the bright spots for the SEA Games host's national team, added 10 markers while brothers Tam and Sang Dinh added 20 points combined.
Coach Kevin Yurkus did not have Justin Young for the game, as he flown overseas to attend the wedding of his brother Jordan.
Save for an early 22-16 first quarter lead, Vietnam struggled shooting all game, finishing with a 29 percent clip compared to Malaysia's 42 percent.
Malaysia also had 19 points off their counterparts' 19 turnovers.
The game served as a preview of a potential medal match for the upcoming 31st Southeast Asian Games to be held next month in Hanoi.
Vietnam won a historic bronze back in 2019 in the Philippines. On the other hand, Malaysia is trying to snap a medal drought in the biennial meet as it last won in 2007.
Photo from Filbasket Facebook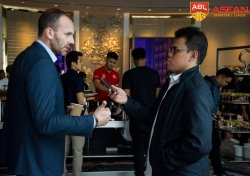 Latest posts by Nguyễn J. Văn Linh (Levi Verora)
(see all)