Filipino teenage center and NBA hopeful Kai Sotto just concluded his maiden NBL Australia season for the Adelaide 36ers.
The 7-foot-3 Sotto was productive in his club's last two assignments, tallying 16 points and 4 rebounds in a slim loss to the South East Melbourne Phoenix on Friday, before dropping 12 points, 7 boards, and 4 blocks in a big season-ending 93-60 win over the New Zealand Breakers on Sunday.
In both of those games, Sotto made a triple. The big man had been showcasing better facets of his game throughout the month, as manifested by his career-high 21-point performance last April 11 although the 36ers lost to the Brisbane Bullets, 93-85.
Prior to their final outing, the 19-year-old Sotto said his focus has always been on the present, taking his basketball journey one step at a time.
"My goal every day is to get better and develop. I always focus on the now. The season isn't finished yet. I'll focus on the future after the season, that's where I'll decide some stuff," Sotto said on Saturday.
In 23 games for the 10-18 36ers, Sotto posted decent averages of 7.5 points and 4.5 rebounds. Even more impressive albeit with a small sample size is his three-point shooting clip of 38 percent, aside from shooting 50 percent from the field overall.
Sotto had been part of the NBA G-League Ignite selection which included eventual lottery picks Jalen Green and Jonathan Kuminga, as well as 2021 31st overall pick Isaiah Todd.
However, the former Ateneo juniors MVP joined Gilas Pilipinas for both the FIBA Asia Cup and FIBA Olympic Qualifying Tournaments – a move criticized by pundits as Sotto had the chance to be scouted even better in the United States.
In a heartfelt message to Filipino basketball fans back in March 2019, Sotto said he will forego going to college and go overseas to chase his NBA dream "by 2021 or 2022".
"I want to devote the next two to three years to single-mindedly focus on my goal of joining the NBA by 2021 or 2022," Sotto wrote.
Sotto joined The Skill Factory afterwards for his development.
The Filipino prospect entered the Top 100 of a handful of mock drafts, and ranked as high as 67 on Draft Express in 2020.
Recently, a Spin.ph report stated that Sotto's agent Joe Bell had been urged by NBA scouts to let the center join the draft.
Sotto is eligible to join the 2022 NBA Draft, and will have an April 24, 2022 deadline to beat. Sunday is the last day for early college and international entrants to declare.
It will be the prerogative of NBA draft aspirants afterwards to withdraw their names to choose other career options or maintain US NCAA eligibility for US-based college players.
With a few hours left before the deadline, only time will reveal what's next for Sotto's much-magnified career.
Screengrab from Adelaide 36ers Facebook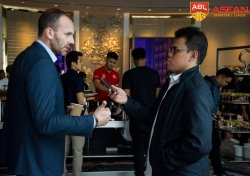 Latest posts by Levi Joshua Jr Verora
(see all)