1,321 total views, 2 views today
The Singapore men's national team had a dominant showing in its final game of the 2022 ASEAN Basketball League (ABL) Pre SEA Games Challenge on Friday at the Liga Bali Arena in Indonesia, claiming fifth place with a 95-54 drubbing of the MisOr Mustangs.
The Lion City used a 29-13 third quarter to pull away decisively, and then again outscored the Filipino side, 28-20 in the payoff period for the exclamation point.
Three players tallied double-digit scoring for the Red and White, led by Lim Jun Yuan's 17 points on four three-point conversions.
Russel Low had 15 points on 6-of-8 shooting while Leon Kwek added 10 markers.
Singapore shot 48 percent from the field as a team, and drained 10 triples against the misfiring MisOr side, which only connected on one out of 17 long-distance tries.
Mac Baracael led the Mustangs with 15 points and 7 rebounds, while Gabby Espinas added 13 points.
Mark Doligon, who had 24 in a 70-58 win over Cambodia last night, was limited to only 3 points on 1-of-14 shooting this time around.
Singapore will finish fifth in the eight-team, four-day tournament, leaving MisOr at sixth.
MisOr lost yesterday, 119-82 to the BBM CLS Knights of Indonesia in a game which saw Juan Gomez de Liano tally a triple-double. They also lost their opening assignment against Malaysia, 82-78.
Photo from ABL Basketball Facebook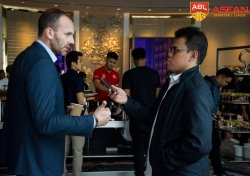 Latest posts by Nguyễn J. Văn Linh (Levi Verora)
(see all)