The Zamboanga Valientes exited the 2022 ASEAN Basketball League (ABL) Pre SEA Games Challenge with pride, pulling away late to beat Cambodia, 95-69 on Friday at the Liga Bali Arena in Indonesia.
Zamboanga used a 32-17 fourth quarter to record a convincing victory over the lowly Cambodian side, salvaging seventh place in the four-day tournament.
Center Darwish Bederi came off the bench for a strong 18-point, 12-rebound double-double on an efficient 9-of-12 clip from the field.
Edok Doroteo started and finished with 16 points and 10 rebounds, while Jeffry Bernardo and Durexx Diaz added 13 and 10 markers, respectively.
The Valientes used their size to their advantage, scoring 62 points in the paint while shooting 51 percent from the field overall.
The Filipino side also posted a 59-36 disparity in total rebounds.
The Valientes came off an embarrassing 127-73 to eventual finalist Louvre of Indonesia. They also dropped contests to Singapore, 92-76, and Vietnam, 94-47.
Cambodia was led by Tep Chhorat, who had 22 points. He has been the national team's scoring leader throughout the games.
Te Senglong and Somoerur Vathnana added 16 and 14, respectively.
Photo from ABL Basketball Facebook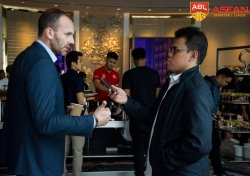 Latest posts by Levi Joshua Jr Verora
(see all)