5,037 total views, 2 views today
The Vietnamese men's national basketball team means business.
Eager to change their medal color when the 31st Southeast Asian Games tips off in its capital city of Hanoi next month, Vietnam walloped the Zamboanga Valientes, 94-47 to jumpstart its 2022 ASEAN Basketball League (ABL) Pre SEA Games Challenge campaign on Tuesday at the Liga Bali Arena in Indonesia.
Returning Vietnam Basketball Association (VBA) star Christian Juzang, the brother of UCLA's Johnny, carried the red and gold with 21 points on an efficient 8-of-14 shooting in an all-around outing that included 8 rebounds and 7 assists in less than 28 minutes.
Juzang made five of Vietnam's 15-of-31 three-pointers. The 2019 SEA Games bronze medalists also shot 51 percent overall from the field compared to only 32 percent from their opponents.
Corey Cilia and Tam Dinh both came off the bench to chip in 15 and 11 points, respectively. All players fielded except Nguyen Van Hung managed to score.
Big man Chris Dierker had a near double-double of 8 points and 10 boards as Vietnam out-rebounded the Valientes, 46-33.
Vietnam, which paraded the core of its 2019 bronze medal-winning squad, also had a 17-6 disparity in assists while head coach Kevin Yurkus' bench outscored Zamboanga's reserves, 47-15.
The rising Southeast Asian basketball side opened a 40-point cushion late in the 3rd quarter, after a dominant 58-30 first half.
In contrast, Jojo Cunanan and Durexx Diaz were the only two double-digit finishers for the Filipino club.
Cunanan tallied 13 points including three treys, while Diaz made 10 markers.
The Valientes will face the Singapore national team next on Wednesday before concluding their group phase campaign against the Louvre Indonesia on Thursday.
Photo from Glenn Michael Tan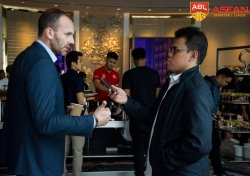 Latest posts by Nguyễn J. Văn Linh (Levi Verora)
(see all)