The Malaysian men's national basketball team fended off a late scare from Filipino side MisOr Mustangs to score an 82-78 win in the opener of the ASEAN Basketball League (ABL) Pre-SEA Games Challenge 2022 on Tuesday at the Liga Bali Arena in Indonesia.
Malaysia was still up, 80-69 with 3:42 left in regulation when the Mustangs went on a 9-0 run in the next two minutes to make it 80-78 with 1:53 left.
However, a miss from Mark Doligon and a turnover by Reil Cervantes in the next possessions proved to be the turning points as Ong Wei Yong made two free throws in the final 28 seconds to seal the win.
Filbasket Most Valuable Player contenders Ting Chun Hong and Wong Yi Hou, as well as fellow KL Aseel teammate Tem Zhen Jie, all scored 17 points apiece.
Tem came off the bench, leading Malaysia's 43 reserve points. Malaysia made 10 triples overall.
Malaysia opened the game taking a 21-11 first quarter lead, before maintaining a double-digit advantage towards the halfway mark of the final frame.
For the newly-formed Mustangs, Doligon top-scored with 17 points and added 10 rebounds.
Shaq Alanes added 16 points, Gabby Espinas tallied a double-double of 13 points and 12 boards, while Mac Baracael and Cervantes each scored 11 markers.
The Mustangs will battle the BBM CLS Knights of Indonesia next on Wednesday in Group A before wrapping up their group stage campaign against Cambodia on Thursday.
Photo from Filbasket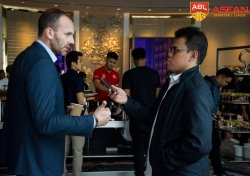 Latest posts by Levi Joshua Jr Verora
(see all)