The Zamboanga Valientes suffered a quarterfinals exit at the hands of Vietnam Red and Gold in the men's competition of the ASEAN Basketball League (ABL) 3×3 International Champions Cup on Sunday in Bali, Indonesia.
The squad composed of Jojo Cunanan, Jeffry Bernardo, David Sebastian, and RJ Argamino first scored a heart-stopping 18-17 victory over Bali United in the Last 16, to earn a ticket to the quarterfinal round.
However, they were stopped by a strong Vietnam Red and Gold side represented by Nguyen Phu Vinh, Vo Kim Ban, Chris Dierker, and Justin Young in the last eight, 21-12.
Another Filipino men's squad, Platinum Karaoke, is slated to face Ahmedabad 3BL in their own quarterfinal showdown.
Platinum is made of Juan Gomez de Liano, Chris de Chavez, Carlos Martinez, and MJ Hammonds. They will go up against the core of the Indian national basketball team.
They wound up with a 1-3 record overall in the two-day competition.
Photo from PBA Images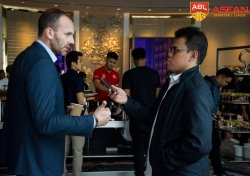 Latest posts by Levi Joshua Jr Verora
(see all)