Platinum Karaoke flexed its muscles in the first day of the ASEAN Basketball League (ABL) 3×3 International Champions Cup in Bali, Indonesia on Saturday, scoring two victories for a slot in the men's quarterfinals the next day.
The Pool C team composed of Juan Gomez de Liano, Chris De Chavez, Spanish 3×3 veteran Carlos Martinez, and MJ Hammonds, romped past Bali United, 21-4 in their first game before breezing past Khmer Stars of Cambodia, 21-2 in their second affair.
Their unblemished performance secured the squad a ticket to the quarterfinals where they will await a winner of an elimination game.
However, the Zamboanga Valientes did not enjoy the same success as Platinum, dropping both of their assignments in Pool D.
The squad composed of Jojo Cunanan, David Sebastian, Jeffry Bernardo, and RJ Argamino first suffered a 21-12 defeat at the hands of the Indonesia Patriots A team, before succumbing to SniperX of Thailand, 21-8 to conclude their day.
Zamboanga will play Bali United on Sunday for a chance to make the quarterfinals.
Meanwhile, the Uratex Dream, past champions of the WNBL 3×3, fell short of advancing to the semifinals of the women's competition as they settled for 1-2 record in Pool A after the group phase.
Tina Deacon, Eunique Chan, Sam Harada, and Kaye Pingol narrowly beat Singapore's Team Lions, 18-15 to jumpstart their campaign.
However, they were bested by Vietnam Red and Gold, 18-15 before the Louvre Indonesia Angels sent them home with a dominant 22-14 win.
The top three men's finishers will receive 10,000 USD, 5,000 USD, and 2,000 USD, respectively.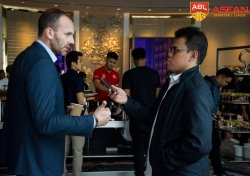 Latest posts by Levi Joshua Jr Verora
(see all)