Platinum Karaoke edged out Ahmedabad 3BL of India, 19-17 in come-from-behind fashion to advance to the semifinals of the ASEAN Basketball League (ABL) 3×3 International Champions Cup on Sunday in Bali, Indonesia.
The team led by Juan Gomez de Liano, Chris de Chavez, Marcus Hammonds, and top Spanish 3×3 player Carlos Martinez, continued its unbeaten run in the two-day tournament, securing a ticket to the last four of the men's competition.
They will face the winner of the Singapore Slingers-Indonesia Patriots Team A quarterfinal tussle at 3:50 in the afternoon.
Ahmedabad 3BL was represented by Vishesh Bhriguvanshi, Amjyot Singh, Amritpal Singh, and Sahaij Sekhon, who was India's breakout star during the FIBA World Cup Asian Qualifiers second window in Manila last February.
Platinum is the last Pinoy team standing in the 18-team field as the Zamboanga Valientes suffered a quarterfinals exit at the hands of Vietnam Red and Gold.
Meanwhile, the Uratex Dream were eliminated yesterday from the women's competition after settling for a 1-2 record.
Photo from BBM Vikings Warriors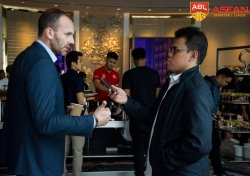 Latest posts by Levi Joshua Jr Verora
(see all)