The 11th season of the ASEAN Basketball League (ABL) will likely tip off on September 2022, according to reports.
Citing Singapore Slingers longtime general manager Michael Johnson, Sport5 Vietnam offered more details into the regional professional basketball league's resumption after a two-year hiatus due to the pandemic situation.
As per Huy Pham of Sport5, the ABL will likely return in September with its usual clubs from Southeast Asia.
The good news is that unlike most leagues during the first year of the COVID-19 pandemic, there will be no more bubble setup.
However, a full-blown home-and-away format is not likely either, since there have been spikes in cases in East Asian countries.
Given the situation, Johnson has mentioned that the ABL top brass will likely adopt a format wherein all participating teams shall play games in a centralized venue in a country for one to two weeks, before continuing the regular season schedule in another country.
According to Malaysian sports journalist Jordan Yap, Johnson mentioned Singapore, Vietnam, Indonesia and possibly Thailand as the four countries which are capable of hosting games.
Sports have slowly been resuming in Singapore, with events like the AFF Suzuki Cup and ONE Championship being able to stage major events in the island country.
Indonesia is set to host ABL's 3×3 Cup this month, as well as a test 5-on-5 tournament. In July, Indonesia will host the 2021 FIBA Asia Cup that has been delayed for a year.
Indonesian club Louvre announced its foray into the Southeast Asian pro basketball league last year while earlier this year, the Davao Occidental Tigers of the Philippines have assumed the slot previously held by San Miguel Alab Pilipinas.
Photo from ABL.basketball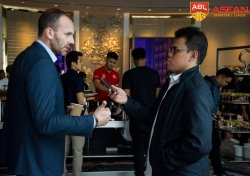 Latest posts by Levi Joshua Jr Verora
(see all)