Three Philippine clubs will participate in the upcoming ASEAN Basketball League (ABL) 3×3 Championship slated for April 16 and 17 in Bali, Indonesia.
According to MainBasket's Instagram post, Platinum Karaoke, which participates in the PBA 3×3 competition, and the Zamboanga Valientes will compete in the men's 3×3 tournament.
Completing the cast are the national teams of Vietnam, Malaysia, Cambodia, Indonesia (Team A and Team B), ABL club teams Saigon Heat, Louvre Surabaya, Singapore Slingers, as well as Shoot it Dragons of Thailand and YKBK of India.
According to Sport5's Huy Pham, the men's 3×3 winner will receive a prize of 10,000 US dollars, with 5,000 USD dollars and 2,000 US dollars going to the second and third-placed teams.
What makes the competition even more relevant is that, per Sport5, the ABL 3×3 Cup will be recognized as a FIBA Lite Quest.
This means winners will have the chance to compete in a FIBA 3×3 Challenger, which serves as a qualifier for the FIBA 3×3 World Tour circuit.
Meanwhile, WNBL 3×3 champions Uratex will represent the Philippines in the women's 3×3 category, alongside the national teams of Vietnam, Singapore, Indonesia, Jumpshoot of Singapore, and YKBK of India.
The winner will get 5,000 US dollars and the runner-up will bring home 2,000 US dollars.
VisMin Super Cup winner in 5-on-5 tournament?
According to MainBasket, two Filipino clubs will also be joining the 5-on-5 test tournament, which shall run from April 19 to 24: the Zamboanga Valientes, and a club representative from the Pilipinas VisMin Super Cup.
Other teams set to take action are the national teams of Vietnam, Malaysia, Singapore, and Cambodia, as well as Louvre Indonesia and the BBM CLS Knights.
It was earlier reported that the ABL announced its return with short 3×3 and 5-on-5 competitions.
Interim CEO Connor Nguyen, who also handles Vietnamese club Saigon Heat, looked to make the said test tournaments as preparation for nations competing in the upcoming Southeast Asian (SEA) Games hosted by Hanoi in May.
The 3×3 discipline debuted in 2019 in the Philippines, with Moala Tautuaa, Chris Newsome, Jason Perkins, and CJay Perez winning the inaugural gold medal.
Photo from PBA Images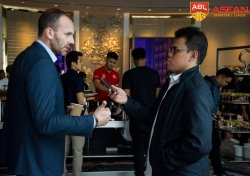 Latest posts by Levi Joshua Jr Verora
(see all)