1,219 total views, 2 views today
The Chooks-to-Go Cebu 3×3 team finished with a 1-2 card in their recent FIBA 3×3 Dubai Expo Super Quest last March 31.
The quartet composed of Mike Harry Nzeusseu, Zach Huang, Mac Tallo, and Brandon Ramirez managed to beat USA's Chicago squad, 21-15 (8:14) but fell to Riga, 21-17, and Antwerp, 19-12 in Pool B.
Against Chicago, Tallo, Huang, and Ramirez conspired in a run which tied the game at 13 apiece.
Nzeusseu then made the go-ahead basket and the game-winner as the Filipino squad made key stops. Tallo scored 10 points in the sole win.
However, Chooks fell to Riga of Latvia, which is composed of the defending Tokyo Olympic gold medalists earlier.
Riga scored a close 21-17 (9:07) victory powered by a strong 10-3 start.
In their last meeting, Chooks was overwhelmed by Antwerp, 19-12 which is also an established 3×3 squad in the FIBA circuit.
Only the top two squads made it to the semifinals of the eight-team field.
The Super Quest served as both good preparation and exposure for the Philippine 3×3 team, as the country is set to host two Masters legs in the 2022 FIBA 3×3 World Tour circuit later this year.
Photo from Chooks-to-Go Pilipinas Facebook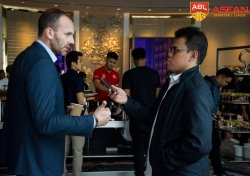 Latest posts by Nguyễn J. Văn Linh (Levi Verora)
(see all)