When Gilas Pilipinas Women unveiled its roster selection for the 2021 FIBA Women's Asia Cup Division A competition in Amman, Jordan, noticeable right away was the focus on youngers players as names like Ella Fajardo, Kristine Cayabyab, Karl Pingol, and Camille Clarin were included.
The squad was clearly trying to hit two birds with one stone–to stay in the top division of the tournament while also planting the seeds for the immediate future by exposing the youngsters to topnotch competition.
Either way, Gilas would be in for a tough ride against continental heavyweights–something head coach and program director for women's basketball Patrick Aquino had already looked forward to.
As Gilas faltered in its first three assignments in Group B to China, Australia, and Chinese Taipei by an average of 65.3 points, frustration swirled over social media groups from pundits with discussions centered along the lines of funding other women's sports instead.
All those criticism, uncalled for to begin with even, were immediately put to rest as Gilas beat India decisively, 74-70 on early Friday (Manila time) to preserve its Division A status.
"I'm just so happy. I'm very happy with the girls. they didn't stop competing. I know they played together and as a team. A good victory for us," an elated Aquino said in the post-game press conference.
Such victory put back to the spotlight what has been overshadowed by three losses: that Gilas Pilipinas women can compete in the highest level of Asian basketball, and that they deservingly belong in the top level, period.
Even when the Discovery group was still in charge of the women's program under the monicker Perlas, the national hoops squad have constantly proven it was on the rise.
Along the way, it picked up silverware in the Southeast Asian level over the past decade. Under Aquino, the Filipinas won its second-ever SEABA championship in 2016, while in 2019, its first-ever SEA Games gold after back-to-back silvers in 2011 and 2013.
All signs were pointing to an even bigger new era. That only a global pandemic and the local government's paltry response to it were able to hamper Gilas women is a testament to the program's growth under the Samahang Basketbol ng Pilipinas.
Aquino and his squad only had barely a month to prepare and train for the continental championship, with key players also missing. Zoom out to the grander scheme of things and it wouldn't take long to find out the Philippines limited sports amidst its health crisis.
Without its top athletes being able to train regularly in gyms or even gather for quick bouts of five-on-five to stay in shape for almost two years, it was quite expected they'd have shaky performances in Jordan.
Collegiate basketball–and sports in general–was also shut down, disallowing an opportunity for scouting of potential new players. The lone professional women's basketball league in the country, the WNBL, is still in its infancy and has also been battling changing quarantine classificaitons.
Without international travel either, there wasn't an option for bringing in Fil-foreigners, if ever Aquino wanted to select even just one to fill the naturalized player slot.
For Gilas to be able to pull off what it did against the tremendous odds it faced while continuing to deal with daily reality only proves how resilient Filipina women can be under the most testing times.
But it also underscores a far more important piece of the puzzle for the future of Gilas Pilipinas women: they deserve more support to continue its progress–from the national team down to the grassroots level–to create a ripple effect that will lead to even more success.
"Being here for the last three editions of FIBA Asia Cup, it's just the pandemic that got our program (hindered). The program is growing and growing, (and) hopefully sponsors would come in and help us grow more. With those, we'd be more competitive in the coming tournaments," Aquino shared.
Aquino is right. What more could Gilas women have done, if in another world, they had everything from the start?
The future is certainly bright, and Filipino basketball fans can only embrace it.
FIBA.basketball photos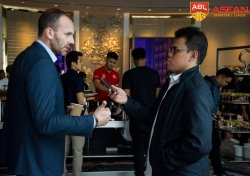 Latest posts by Levi Joshua Jr Verora
(see all)