Gilas Pilipinas women finally ended its misery, scoring a gritty 74-70 victory over India on Friday (Manila time) to end its 2021 FIBA Women's Asia Cup Division A campaign in Amman, Jordan on a winning note.
Sharpshooters Janine Pontejos and Khate Castillo joined forces, combing for 44 points and 11 threes to lead the nationals to a triumphant finish in their most pivotal game.
Pontejos scored 17 of her game high-tying 22 points in the first half, while Castillo picked the perfect time to explode, also finishing with 22 points, seven coming from three-point area.
None was bigger than her trey with 2:38 remaining which pushed Patrick Aquino's troops up, 73-65. Prior to the contest, Castillo scored a total of nine points in three games.
"I'm just so happy. I'm very happy with the girls. they did'nt stop competing," head coach Aquino said. "I know they played together and as a team. A good victory for us."
The Philippines displayed its best offense in four outings, hitting 15 triples on a 38.5% clip and assisting 22 on field goals en route to keeping its spot in Division A for the next edition of the continental tournament in 2023.
Afril Bernardino provided support, filling the stat sheets with nine points, 11 rebounds, seven assists, four steals, and four blocks in an all-around game.
India threatened to pull away when it took a 23-13 lead early in the second quarter, but the Filipinas buckled down defensively to pull within 33-31.
Later in the third frame, Afril Bernardino tied the count a 42-all, before triples from Pontejos, Castillo, and Ria Nabalan gave them a 55-49 cushion.
From there, it was a back-and-forth battle, with the Philippines' outside shooting proving to be the difference in a game.
Gilas' thrilling win came after three straight losses at the hands of China, Australia, and Chinese Taipei by an average of 65.3 points.
In the process, the national squad weathered not having competitive basketball for almost two years due to the country's local pandemic-related situation, as well as absences to key players for various reasons.
The win also proved the Philippines' women's basketball program still belongs to the top division in Asia and the Pacific.
FIBA.basketball photo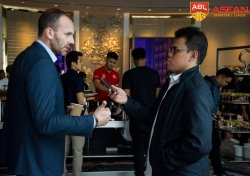 Latest posts by Levi Joshua Jr Verora
(see all)