1,648 total views, 2 views today
Gilas Pilipinas women picked up its second consecutive loss, falling to world no. 3 Australia, 120-56 in the 2021 FIBA Women's Asia Cup Division A elimination round Wednesday (Manila time) in Amman, Jordan.
The Filipinas displayed more grit this time around, managing to improve vastly the outcome after their 143-52 setback at the hands of China just a night ago.
However, the Opals were still too much for the national team, using a 32-13 second quarter as coach Patrick Aquino's troops fell to 0-2 in Group B.
Former WNBL Defensive Player of the Year Lauren Nicholson paced the Opals with 21 points, scoring 18 in the first half alone. Keely Jane Froling added 18 points and 12 rebounds as her side out-rebounded Gilas, 67-25.
The Philippines showed fight in the opening quarter, hitting four triples to pull within 32-20–their most productive 10 minutes of the tournament so far.
But the Aussies opened the second frame on a 15-0 run to create more separation, making it 47-20. From there, it was all Australia, as they improved to 2-0 in the group.
Janine Pontejos paced the nationals this time, scoring 13 points including three from long distance. Kristine Cayabyab added 10 markers.
The Philippines made 11 triples in total, a more productive output from their six from yesterday.
Gilas will round out its elimination round campaign against Chinese Taipei, needing a win to advance to the knockout phase.
Taiwan lost to China earlier, 124-50 as signs point to an interesting duel between them and the Philippines tomorrow.
FIBA.basketball photo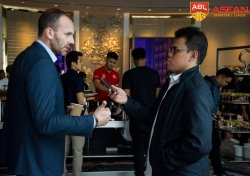 Latest posts by Nguyễn J. Văn Linh (Levi Verora)
(see all)