The Australian women's national basketball team zoomed to a 2-0 win-loss record in the 2021 FIBA Women's Asia Cup Division A action after a 120-56 win over Gilas Pilipinas Women on Wednesday (Manila time).
And while the disparity in the final result tells a lopsided story, Opals head coach Paul Goriss still commended the Filipinas for the fighting spirit they showed on the floor in spite of the obvious size and talent differential.
"Watching last night, and again up close today, I think Philippines are a great team. They never give up. I think they fit how they play their style, they're quick, how they play the game is really good," Goriss said of the Philippines side.
Gilas did open the gates on a more productive note, trailing by only 32-20 after the opening quarter. However, Australia did what it needed to do to cruise to a relatively easy win.
Gilas head coach Patrick Aquino previously cited the lack of preparation time of the squad, only being able to train collectively for one month. In addition, most players have not been in competitive shape since the country has been crippled by a global pandemic for almost two years now.
Still, there were positive takeaways, like the way the squad ran its offense. Gilas made more triples this time, making 11 for a 31.4% clip. Scoring was more evenly spread out as well, with Janine Pontejos scoring 13 while Kristine Cayabyab adding 10 points. Afril Bernardino and Ria Nabalan chipped in eight points apiece.
"I think their style, they spread the floor, they attack you, they run multiple dribble hand-offs, and it is hard to guard, because they constantly look on the move," Goriss added.
Usually an assistant for Sandy Brondello, who is currently coaching the Phoenix Mercury in the WNBA semi-finals, Goriss concluded by saying an obvious weakness for Gilas women is their size.
The team does not have the luxury of having Jack Danielle Animam, who is committed to her Serbian club, while regulars like Danica Jose and Allana Lim were also unavailable.
"Obviously, the big point that everyone would know is they need some size. You can't just grow on a tree somewhere in the Philippines. I think … that's just their Achilles heel, just having more size," Goriss, who left some praise for the 6-foot-4 Clare Castro, added.
"I thought their center did a great job and battled hard but she hasn't got much help. They played their a–es off, it's a testament today."
FIBA.basketball photo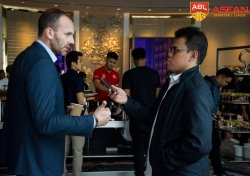 Latest posts by Levi Joshua Jr Verora
(see all)