Gilas Pilipinas women jumpstarted its FIBA Women's Asia Cup 2021 Division A campaign on a loss at the hands of a powerhouse China squad, a result much expected given the disparity in talent level and preparation time.
But in spite of the 143-52 defeat, the entire Philippine national squad still has positives to look forward to, given the situation they have weathered prior.
For debuting women's seniors player Ella Fajardo, Filipino fans will just have to continue supporting the program, as players will eventually improve while the team, collectively, will become more competitive at the top level.
"We have more to bring and we just ask for your continued support. We have more things in us," the 5-foot-6 guard, which scored six points in over 13 minutes of play, said.
Gilas head coach Pat Aquino had been vocal about the choice to incorporate younger players to the roster for the meet. Fajardo is only one of them; others include top prospect Kristine Cayabyab, Karl Pingol, and National University Lady Bulldog Camille Clarin.
"Bringing in young players at this point in time now is probably the best time for the future of women's basketball in the Philippines," Aquino, always the forward-thinker and also the program director of the Samahang Basketbol ng Pilipinas for women's hoops, emphasized.
"A lot of struggles at first, but hopefully, they will get comfortable in the coming more games and show their wares why they are here, not just them but all the players."
Aquino did rue having only one month of preparation as Gilas trained in a bubble before flying to Amman, Jordan.
"It's about the preparation. China has been always there, and they're coming off the Olympics. They're still in their high," he shared.
"For us, we just practiced just one month. It's really a big difference in preparation. Aside from that, a lot of struggles, a lot of turnovers for us."
The road will not get any easier for the nationals, as they face off with the Australian Opals tomorrow.
But in the grand scheme of things, Fajardo, Aquino, and the rest of the women's side hope what they are doing now–getting exposed to topnotch competition while picking up lessons along the way–also helps in planting the seeds for the continued progress of the sport in the future.
"The adjustment, the system, and (not) playing after two years (in the Philippines due to the pandemic), this is what we get. Hopefully we can improve more in the coming games."
FIBA.basketball photo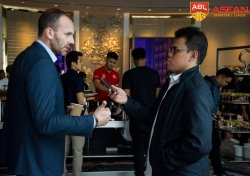 Latest posts by Levi Joshua Jr Verora
(see all)