NLEX guard Kiefer Ravena has been given the go-signal to play in the Japanese B.League for one season, PBA confirmed on Saturday in a press conference.
"The NLEX Road Warriors is happy to announce that an agreement has been reached with the PBA to allow Kiefer to play in the Japan B.League for one season," NLEX official Ronald Dulatre said, reading an official statement.
Involved in the agreement are the PBA Board of Governors, Commissioner Willie Marcial, the NLEX management, and Ravena's camp.
Dulatre added Ravena will continue playing for NLEX in the on-going PBA conference.
The star guard is committed to return to the Philippines following the one-year stint with Japan B.League Division 1 squad Shiga Lakestars.
"I have heard a lot since my Japanese team Shiga Lakestars announced my signing with them back in June 2021," Ravena said.
"Looking back, I sought clearance from the PBA before signing with Shiga. As everyone knows and as widely reported, I had an existing UPC contract under employment which I had signed with the NLEX Road Warriors last September 2020. I understand the UPC is viewed as tripartite agreement by and with the PBA, and that my signing with Shiga could have caused legal repercussions."
Ravena will join his brother Thirdy, who is signed with San-En NeoPhoenix, as well as Juan and Javi Gomez de Liano and Kemark Carino, who are all signed to Division B clubs.
The news comes just after Ray Parks was given clearance by TNT Tropang Giga, although it is not yet known whether the wing man will play in Japan as well.
"I apologize for any hurt feelings and stressed that this has caused the PBA, and the NLEX Road Warriors. I specifically want to apologize to the PBA Board of Governors and PBA Commissioner Willie Marcial who I know are doing their best in meeting the changes and challenges brought about by the pandemic," Ravena added.
"With that said, I would like to give a big thank you to the PBA for allowing me to join for the Shiga Lakestars this season … I am very much excited to play for Shiga this season (and) I am excited to wave the Philippine flag and prove that Filipinos can. I will be back next year to play for the NLEX Road Warriors and play in front of our home fans."
Marcial has noted Ravena has personally told him he will be returning next season, regardless of his performance or benefits in Japan.
The commissioner said Ravena might face sanctions if he plays for more than one season in the Japan B.League.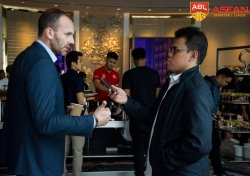 Latest posts by Levi Joshua Jr Verora
(see all)