China highlighted in its 2-0 FIFA World Cup Asian qualifiers win over the Philippine Azkals what was evidently missing in the national football team: chemistry and preparation.
The Azkals, though able to hold their ground in the first half, succumbed to two second half goals to China, losing as they remained in third place in Group A.
"Lack of preparation was inevitable," David Abella of the Eat, Sleep, Breathe Football podcast said.
"We could've done better with some friendly games but it is what it is. We just have to focus at the next two games at hand."
The match saw four Azkals making their debut: defenders Jefferson Tabinas and, Michael Kempter, winger Oliver Bias, and goalkeeper Bernd Schipmann.
With barely two to three weeks of preparation, scrapped friendlies, and a last-minute venue change which has been a logistical nightmare, the Azkals were unable to overcome factors beyond their control.
The lack of chemistry showed, as the squad looked shaky at the start and too compact.
Towards the latter stages of the first half, the nationals were able to get some quality attempts but China still dominated possession and control of the match overall.
Still, Abella was personally impressed with Tabinas, who performed well from the left back position, and Bias.
"I'm furious regarding the game, because of the atrocious bad calling of the referee. I'm impressed from the new bloods like Bias and especially Tabinas."
Looking ahead, the Philippines will face Maldives and Guam in hopes of keeping their AFC Asian Cup dreams alive.
FIFA.com photo via Getty Images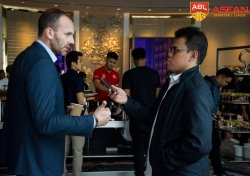 Latest posts by Levi Joshua Jr Verora
(see all)