Fil-Am guard Jason Brickman will play for the Meralco Bolts 3×3 team, moving one step closer to his PBA dream.
The team announced the development on Friday.
"We're looking forward to seeing his brand of basketball up close. He's a veteran playmaker who has proven himself internationally and we're excited to have him on board," said Meralco team manager Paolo Trillo in a statement.
The signing comes as a blessing in disguise for the 5-9 Brickman; he did not make the PBA draft as he failed to fulfill the necessary requirements for Fil-foreign applicants.
Brickman played in the ASEAN Basketball League for several years for various teams like Westports Malaysia Dragons, Mono Vampire, and Alab Pilipinas.
He also suited up for club team Mighty Sports in the Jones Cup, before ultimately deciding to join the PBA.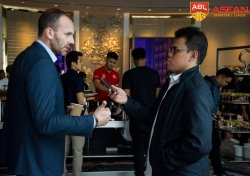 Latest posts by Levi Joshua Jr Verora
(see all)