Filipino international prospect Kai Sotto will not be joining Gilas Pilipinas in their bubble set-up training camp in Calamba, Laguna, according to a report.
Per Quinito Henson of Philippine Star, Sotto begged off to "focus on training and development in the (United States)." This comes even after Sotto and his former NBA G-League team Ignite decided to part ways last month.
That is not to say Sotto cannot be part of future Gilas competitions, but all plans are still tentative as of the moment, due to the recent spike in COVID-19 cases locally, as well as difficult logistical requirements for international travel.
The report also states that Gilas' preparation in the bubble will last until April 15, before an Australia or United States training camp will be pursued.
The national team playing as a guest team in the PBA, an idea brought up by league commissioner Willie Marcial before, apparently is still being considered, with games possibly being non-bearing or the other way.
Gilas has two tournaments lined-up in June: the 3rd window of the 2021 FIBA Asia Cup qualifiers and the FIBA Olympic Qualifying Tournament hosted by Belgrade, Serbia.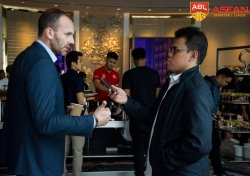 Latest posts by Levi Joshua Jr Verora
(see all)