Young NBA stars Ja Morant, Zion Williamson, and Trae Young were among those added to the Team USA pool for the Tokyo Olympics, according to a report by the Associated Press.
Tim Reynolds of the Associated Press shared that the youngsters are the latest inclusions to the pool.
AP sources: Duncan Robinson, Zion Williamson, Trae Young and Ja Morant among players being added to USA Basketball consideration pool for Tokyo Olympics. They'll be in addition to Olympic vets like LeBron James, Kevin Durant and almost all others who were in the pool a year ago.

— Tim Reynolds (@ByTimReynolds) January 23, 2021
Houston Rockets center Christian Wood and Miami Heat sharpshooter Duncan Robinson were also added.
The 44 finalists last year include future Hall of Famers like LeBron James, Steph Curry, James Harden, Anthony Davis, Damian Lillard, Kawhi Leonard, Russell Westbrook, Kyrie Irving, Kevin Love, Chris Paul, and Paul George.
Some up and coming all-stars and veterans like Devin Booker, Jimmy Butler, Kemba Walker, LaMarcus Aldridge, Jayson Tatum, Bam Adebayo, Khris Middleton, Tobias Harris, and Victor Oladipo are also part of the list.
All 44, except for Klay Thompson who got injured during the offseason, will continue to be part of the list again.
The pool, as @wojespn first reported, is going to be somewhere around 60 players. All 44 from last year's pool included, sans Klay Thompson.

Robinson, Williamson, Morant, Young, Christian Wood are among the new names in the pool.

— Tim Reynolds (@ByTimReynolds) January 23, 2021
According to Reynolds, the national team is looking for as much as 60 players to include in the pool.
Morant, the reigning Rookie of the Year, has been steady in his return, putting up 22.6 PPG and 7 APG for the Memphis Grizzlies.
The New Orleans Pelicans' Williamson is making a great leap so far in his 2nd season with 23.7 PPG on 60% shooting.
Young, already an all star last season, is trying to the lead the Atlanta Hawks to the playoffs this year with 25.3 PPG, 4.4 RPG, and 8.7 APG.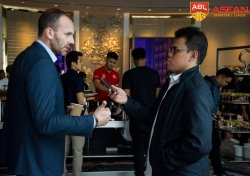 Latest posts by Levi Joshua Jr Verora
(see all)