Throughout her career, Mary Joy Tabal is no stranger when it comes to finishing races with flare. Her perseverance paid off, a reason why she holds the distinction of being the first Filipino marathon runner to ever qualify in the Olympics.

Beyond that, Joy has already several medals to her credit. That includes a gold medal when she competed in marathon during the 2017 Southeast Asian Games. She also copped the silver medal in 2015 and 2109, not to mention six Milo Marathon crowns.
The Colored Heart That Sparked The Romance
Unknown to most is her husband-to-be, Lieutenant Junior Grade Hector Dan Jimenez of the Philippine Navy. When asked to give a brief history, Joy shared the interesting story of how they met.
"He has been a fan since 2015, he saw me running and competing. He sent me messages na di ko na-open until Feb. 7, 2018. This was just 2 months after my Papa died. I was still heartbroken at that time then I saw his message on Instagram that was filtered," Joy started to narrate.
(Joy is the daughter of Retired Police Rolando Tabal Sr. He died on Dec. 2, 2017 of diabetes, a day before his daughter copped the 5th National Milo Marathon title in Cebu.)
"He sent me a black heart and I was wondering why he sent me that heart na pa-Valentines pa naman and I was still mourning kay Papa. Or was he just bitter? It was a filtered message so I opted to reply to asked why black heart?" Joy adds.
"Then he was like na star-struck daw siya nung ng nag-reply ako and said it was red heart daw. Yun pala, we found out that if you send a red heart from an Android phone to an iPhone it would turn out as a black heart. We exchanged screenshots and we then laughed."
"He has since become a good friend and he has been following me noon pa daw. Idol na nya ako. But I knew he was serious when he booked a ticket from Zambales to Cebu on Feb. 21 2018. He wanted to personally visit me and introduce himself to me. From there he started courted me. We officially became a couple on May 1, 2018," Joy said.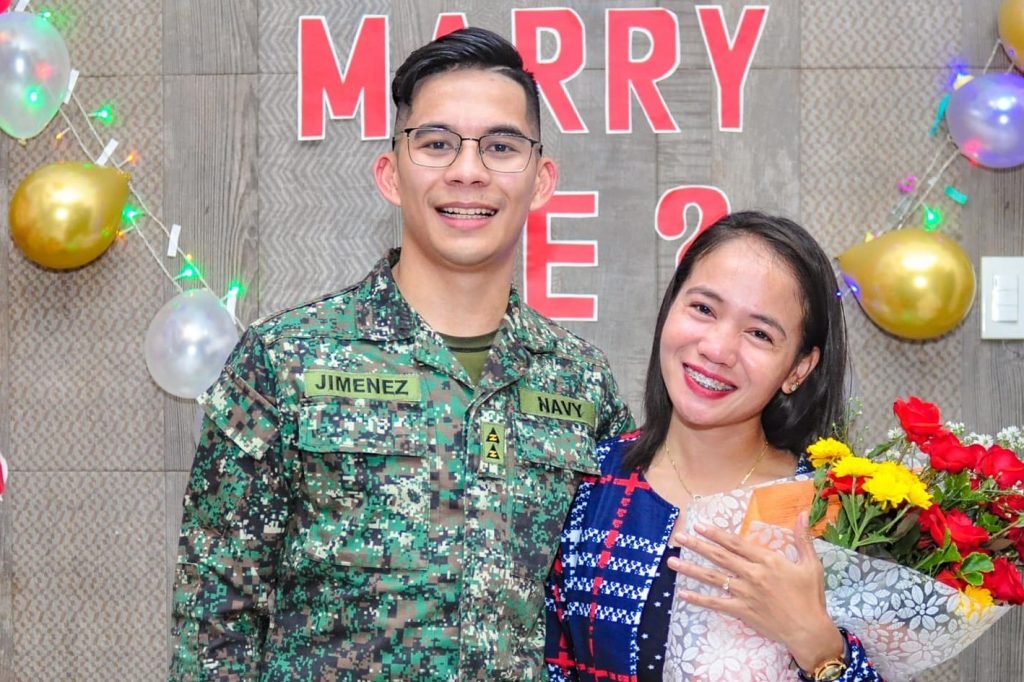 Dan's Ingenious Proposal Plan In Motion
As most know by now, Dan formally proposed to Joy in mid-January and the 31-year-old marathoner said yes. However, the series of events that led to that moment is something only that hopelessly romantics may dare try.
"What was unusual on that day was when Dan wanted to leave the house early. The wedding that we were going to attend was at 4:00 p.m. and I even argued kasi gusto niya 10:00 a.m. Reason ni Dan is gusto nya mag-date lang daw muna kami and lunch out," Tabal recalled.
It turns out that Dan needed to take Joy away from the home for the surprise event. Joy's mother needed to cook while her siblings and their partners needed to decorate the house.
Joy insisted that she needed to return home to retouch and change clothes. Dan eventually won when he used the line: "I want to have a lunch date with you today and do window shopping."
When both eventually attended the wedding, Joy recalled how Dan appeared to be worried about something. They were talking about going to the reception of the wedding since the groom is a close friend of Joy. It was there where Dan tried to make excuses and said that he was palpitating. He added that he needed to go to the comfort room and preferred to use the one at Joy's home.
When they arrived, Dan left Joy at the guardhouse and rushed to the house claiming he could no longer hold it. It turns out he was running because he was going to change into his uniform. Dan got some help from Joy's pet who kept her occupied outside the Tabal residence.
"He even left me from the guardhouse going inside the house. Tumakbo na siya kasi di na daw niya kaya tiyan niya. Yun pala, magbibihis pa siya nang uniform nya. Buti na lang din yung pet ko sumalubong din sa akin kaya nagka-oras ako nang kaunti sa labas nang bahay," Joy said.
When Joy saw friends and relatives at their home, it was here where she was already getting worried. She knew that something was up but she tried to calm herself even if she was getting nervous. That was eased a bit when her relatives and siblings performed a dance number. However, she got nervous again when she was blindfolded.
"Kinabahan na ako at alam ko meron mangyayari pero pilit ko pinapa-kalma sarili ko at huwag ma-excite. Buti na lang medyo natawa at natuwa ako dun sa dance number nung kapatid, pamangkin at cousins ko. Nung meron na blindfold, dun na ako kinabahan ulit," Joy recalled.
From there, most already know by now what happened. Joy put up a post on her Facebook account which read:
"Was only dreaming for this day to happen! My heart's crying out with so much joy! Thank you My Baby Dan.
It's a YES!"
Was only dreaming for this day to happen! My heart's crying out with so much joy! Thank you My Baby Dan Rain Collins ❤️ It's a YES!🥂🙏

Thank you John Velez PHOTO BY: JOHN VELEZ

Posted by Mary Joy Tabal Oly on Thursday, January 14, 2021
'I Have Your Back'
The proposal of Dan to Joy will undoubtedly be one of the happiest events both will cherish. However, Joy explained that this will not alter their career priorities. Both plan to stay the course and continue to have each other's back.
"Dan has been very supportive in my career and understood the process. We promised to understand our priorities and that will let our love light our ways. We want to build and achieve our dreams together! And yes, I will still compete after marriage. I still have a lot of races in mind to join," Joy exclaimed.
Joy added that this ranks as the second most-happiest moment of her life. She still considers crossing the finish line to hit the Olympic qualifying time as the first, the one that officially made her an Olympian.
Joy's ideal wedding is a solemn and memorable ceremony that would be celebrated with their family and friends. She also feels that it would have been more memorable and sweeter if her dad was still alive so that he could walk her down the aisle.
Joy Tabal's Message Of Gratitude to Dan, Family And Friends
Finally, we gave Joy the floor to issue her messages to Dan, her family and friends as they gear up for that special day.
Joy's special message to future husband, Lieutenant Junior Grade Hector Dan Jimenez
"To Dan, thank you for continuously loving me and for being with me and my Family especially during these trying times. You have shown and have given me so much strength. For almost three years that we've known each other, you've seen me fail and succeed. You never fail to amaze me with your love. You remained patient and very understanding," she said.
"As we step up to the next level of our relationship, may we continue to choose love and faith, may we continue to support and understand each other thru ups and downs. Let's be with each other as we grow old and achieve our dreams as a team and partners. Let's take our challenges together and make it an opportunities for us to grow and let's keep praying!"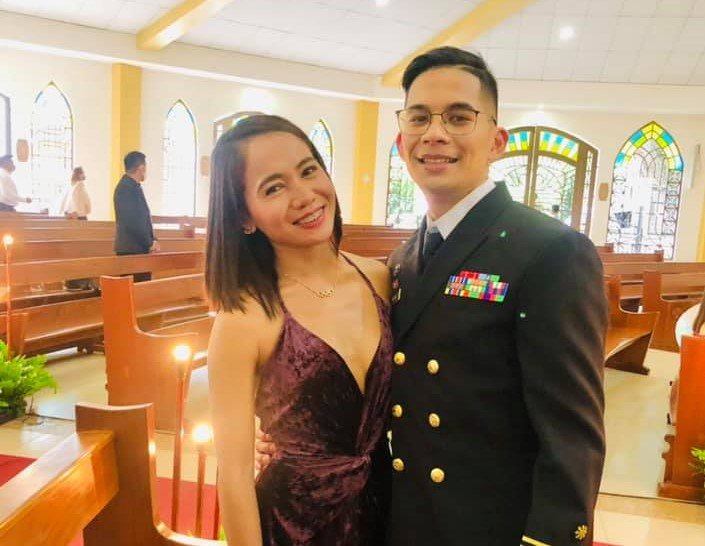 Joy's message to his family and friends
"To my Family, thank you for loving us both and for welcoming Dan to our family. Since the day you've met and known Dan, I know he won your respect right away since he is so lovable and a good person," Joy stated.
"You've seen how much he loves and cares for me. You've seen that he is a gentleman and I know Dan has won your trust. Thank you for I know that my happiness is what all you've wanted. You wished and prayed that I will find and be with someone that will love and take care of me as we grow old. I know you've seen that in Dan. Thank you and keep praying for us too!"
"To my friends, I can't wait to celebrate this special moment of our life with you! Thank you for the warm greetings on our engagement," Joy ended.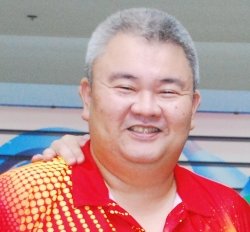 Latest posts by Brian Yalung
(see all)